Every year, there seem to be different demands for different eCommerce AI products. In 2023, we're seeing ongoing trends with automation, unique differentiated experiences, and hyper-personalization.
As a result, we picked the 4 most popular eCommerce AI solutions at YesPlz AI that offer retailers a unique way to leverage these trends.
We're counting down the most popular eCommerce AI products for 2023, so you can stay in the loop!
#4 Most Popular eCommerce AI: Fashion Tagging That's 100% Automated
We're starting off the countdown for the most popular eCommerce AI with fashion tagging.
Automated fashion product tagging, through computer vision and NLP, can extract detailed product attributes in seconds, such as neckline, a specific sleeve length, skinny jeans, unique colors, animal prints, or even a work, party, or vacation vibe.
YesPlz fashion product tagging stands out from the competition for its granular level of attributes and affordable pricing because of our AI capability. Retailers don't need to waste time waiting for a human tagger to complete the process.
And, YesPlz fashion product tagging is highly accurate–we've trained AI on more than 1 million fashion products. With an expansive knowledge of fashion, our AI can tag product attributes across women's and men's categories including:
-Silhouette
-Style
-Design
-Vibe
Check out the full list of what YesPlz's AI tags.
The Fashion Tagging Ebook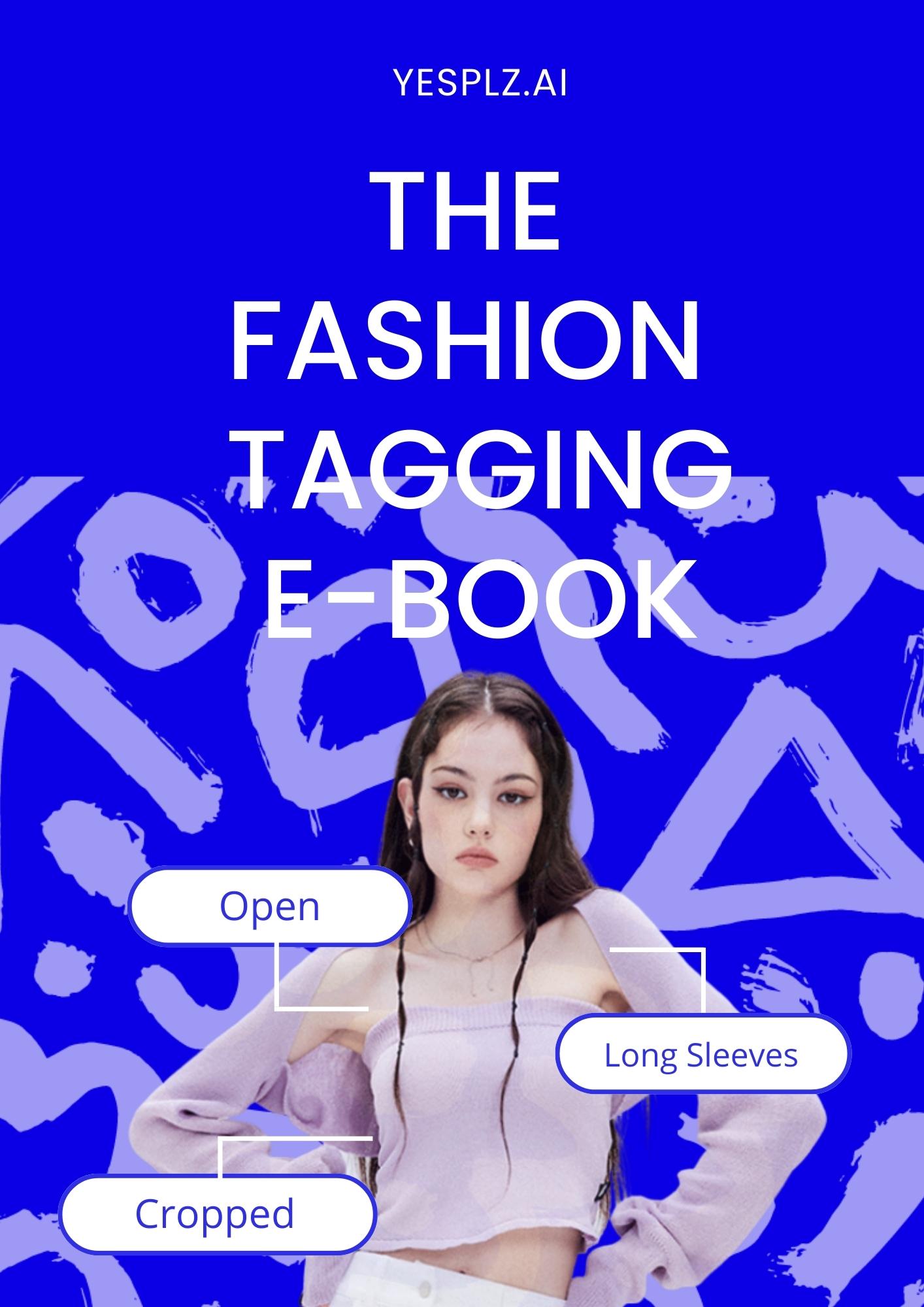 How fashion tagging can help your eCommerce
Details about the fashion tagging process
A thorough list of product attributes YesPlz can tag
More resources about fashion tagging and fashion AI
GET THE GUIDE
KEY BENEFITS OF AUTOMATED FASHION TAGGING:
As the industry continues to embrace eCommerce AI, many brands are looking for ways to improve their product tagging, and by extension, product discovery process.
By eliminating the need for manual tagging, retailers save on the cost of labor. YesPlz AI product tagging also gives retailers the opportunity to unlock:
-Easily automatically generated product descriptions
-Rich filtering and site search for fashion products
-Personalization for shoppers
-Trend forecasting for merchandising
-Automatically filling out metafields for Shopify merchants
How does YesPlz fashion tagging work?
YesPlz AI tagging is a simple, 2-step process for retailers.
Retailers provide their product feed URL, then our fashion-trained AI analyzes the images and text descriptions to tag products. We can tag 20 to 60 attributes for a product in seconds.
Behind the scenes, we've trained our AI to understand fashion by interviewing hundreds of shoppers on what product attributes matter most to them–and how they define different vibes and occasions. By using a tagging methodology that takes into account shopper and fashion context, we can tag products in a way that is more precise and relevant to each retailer.
Schedule a demo and see how YesPlz AI has been helping all sizes of fashion brands with deep product tagging.
#3 Most Popular eCommerce AI: The Latest AI Personalization for 2023
AI personalization is our number 3 most popular eCommerce AI. Why?
Retailers with large product catalogs are looking for a way to provide personalization for their shoppers. At the same time, startups and styling specialty services are looking for a smart way to offer personalized styles for their shoppers.
Luckily, YesPlz AI can help and has been working with many fashion brands using our fashion-focused machine learning.
YesPlz's AI quickly learns a shopper's unique style preferences based on just a few of their liked and disliked key purchases. By analyzing these products, our AI recognizes the key style attributes such as silhouette, occasion, color, and pattern that align with shopper's tastes. This allows us to provide personalized curations, so shoppers can skip browsing irrelevant items - and instead, see recommendations that match their style immediately.
KEY BENEFITS OF ECOMMERCE AI PERSONALIZATION:
-Personalization API is ready to be plugged into your website
-Automate personalization at scale
-Personalized email campaigns with unique curations
With one easy API, retailers can start personalizing at scale. As personalization gains popularity, shoppers are raising their expectations when it comes to recommendations. For retailers, scalable personalization is critical to keep shoppers engaged and converting.
From shopper preferences, we can also create curated email campaigns for specific shoppers–all generated from YesPlz machine learning.
How does AI personalization work?
Use the YesPlz AI API to provide your product catalog and anonymized users' purchased, liked and disliked choices. In as quickly as 2 to 3 products, YesPlz AI can start generating personalized recommendations to match the shopper's preferred styles and offer curated "complete the looks."
#2 Most Popular eCommerce AI: The World's First Virtual Mannequin Filter
One of our top eCommerce AI products for 2023 is the world's first Virtual Mannequin Filter. It's truly unique in that it allows customers to filter products using a customizable virtual mannequin that has fit, silhouette and design attributes mapped to it.
Shoppers simply click on the body part or product attribute they want to filter, and in a simple click, they receive instant search results that are pre-tagged with AI.
Did you know the Virtual Mannequin Filter increases the average cart size by 1.7 times?
A shopper with an intention to purchase is more likely to add more products to their cart with the Virtual Mannequin Filter, because it supports seamless discovery.
As retailers are looking for new ways to engage the digitally-savvy shopper in 2023, the Virtual Mannequin Filter is one of the most popular AI for eCommerce products.

By offering an intuitive, new approach to filtering, retailers can give their shoppers the personalized shopping experience they want.
KEY BENEFITS OF VIRTUAL MANNEQUIN FILTER:
-More intuitive and easy discovery experience for shoppers
-Improved product visibility and discoverability
-Streamlined search experience with higher quality matches
The Virtual Mannequin Filter not only streamlines the filtering experience, making the process intuitive and visually-focused, but drives higher engagement from shoppers.
Empowered shoppers are able to take charge of their search journeys, so retailers can expect to see shoppers spending more time on-page and higher conversion rates
Shoppers don't need to understand the complex fashion terminology that often hinders the search experience. And, AI is making sure that search results are relevant.
Best of all, shoppers don't need to navigate long lists of text filters. Instead, they simply click on the virtual mannequin filter (and corresponding visual cues) to create their own filtering experience.


How does the Virtual Mannequin Filter work?
With a simple plug-in, YesPlz AI provides a widget that can be placed on any part of a website, and integrates with any retailer catalog.
A dashboard editor is also provided for retailers to customize the filtering options to be relevant to their businesses.
Within each product category of the Virtual Mannequin Filter, there are more specific attribute breakdowns–for example, under "jeans," shoppers would see distressed or different washes. It's powered by fashion AI, so matches are instant and accurate.
#1 Most Popular eCommerce AI: Conversational AI Stylist That Creates a Curated Discovery Experience
The YesPlz GPT AI Stylist is one of the most popular eCommerce AI products from 2023. As retailers continue to be interested in leveraging AI to create a more personalized shopping experience, the GPT AI Stylist offers retailers a unique way to provide a curated discovery experience for shoppers.
The GPT AI Stylist leverages NLP, computer vision, and YesPlz's unique fashion transformer to deliver personalized outfit ideas and product recommendations through natural chat conversation. Shoppers can ask the GPT AI Stylist any question and receive instant answers and product suggestions.
Retailer products are seamlessly integrated into the conversation, so shoppers can easily click to purchase.
Designed as an eCommerce AI discovery experience, the GPT AI Stylist harnesses the power of fashion technology to provide a personalized, curated shopping experience.
KEY BENEFITS OF AI STYLIST:
-Intuitive natural language understanding from shoppers- no more rules-based conversations
-Instantly generated "complete the look" outfits, for any shopper request
-Hyper-personalization- curated AI looks and recommendations for each individual shopper based on carefully designed feedback loop and fashion-trained AI
-Never run out of recommendations - because our AI stylist is able to scan the entire catalog in seconds and is able to continuously make fresh recommendations until the shopper is satisfied.
The GPT AI Stylist can provide valuable shopper insights to retailers, who can use this data to identify trends, make business decisions, and improve their overall customer experience. Because shoppers are engaging in a conversation with AI, retailers can understand the most popular prompts, the most frequently asked questions, trending topics, and more.
The intuitive conversational interface offers shoppers a more engaging experience than a standalone search experience. GPT AI Stylist is always learning and adapting, it serves as a virtual stylist that evolves with shoppers' needs.
With endless options for new outfits and personalized curation based on favorited products, shoppers will always have something new to discover.
How does the GPT AI Stylist work?
A simple plug-in integrates with retailer product catalogs. YesPlz AI takes care of training fashion AI and provides the widget, which can be placed wherever retailers find it applicable to their needs.
The GPT AI Stylist understands shoppers' text prompts and makes product recommendations using NLP and deep learning.
We make sure that the AI is trained on the latest fashion trends, and can work with any retailer product catalog. Through a unique blend of AI, we're able to deliver a product discovery experience that is hyper-personalized, and easy for retailers to integrate.
The Future of Shopping Is eCommerce AI
The eCommerce AI revolution is here, and shoppers' expectations are higher than ever.
The days of mindlessly browsing irrelevant products are obsolete. Shoppers have strong expectations to find exactly what they want, instantly. Retailers who are guessing their intentions simply won't cut it in the age of personalization.
Our AI delivers hyper-personalized recommendations and lightning-fast discovery - it's the future of fashion eCommerce.
Today's shoppers are looking for genuine personalization: we learned that shoppers expect AI to understand their preferences, refine their intentions, and therefore deliver the style transformation they want.
Retailers who know how to leverage eCommerce AI to their advantage will be able to provide shoppers with a unique and superior shopping experience.
We understand integrating AI takes time and lots of resources. But, YesPlz AI has built many key discovery solutions that can help fashion brands start today and stay ahead of the AI game.
By implementing the latest, most advanced eCommerce AI products, retailers can stay ahead of the curve, creating tailored experiences that shoppers crave, but at scale.
We're living in an exciting time for AI in eCommerce.
Are you ready to take advantage of the latest and greatest AI for your fashion eCommerce?