In 2023, fashion eCommerce executives can't stop talking about AI solutions for eCommerce.
As the competition for customer attention heats up, more and more brands are turning to AI to improve every aspect of their eCommerce, from product discovery to customer support.
In this article, we'll focus on the area that we believe is leading the way in creating eCommerce experiences that convert: search, discovery, recommendations, and personalization.
With so many new AI solutions for eCommerce coming online, it can be hard to know where to start.
Let's dive in and see why YesPlz is building the best AI for eCommerce–and what that means for retailers and shoppers alike.
An Overview of 2023 AI for eCommerce Solutions
AI for eCommerce has the potential to enable groundbreaking innovations in eCommerce, such as:
-Natural Language Processing: Advanced NLP capabilities such as ChatGPT allow shoppers to search using conversational, natural language queries rather than specific keyword matching, providing a more intuitive search experience.
-Computer Vision: Artificial Intelligence can recognize patterns and segmentations in images. The applications include auto product tagging, the generation of product descriptions, and diverse search and recommendations.
What's the problem?
Although a ton of innovative technology exists, all of the current AI for eCommerce solutions on the market are just that: fragmented solutions. They are not a complete solution that can be used in every area of your eCommerce to create an end-to-end personalization experience that converts.
Typically, AI for eCommerce solutions are built with only one solution in mind, leaving retailers unable to leverage shared data and a fragmented discovery experience for shoppers.
Is new always better?
While many startups are popping up in 2023 because of the proliferation of ChatGPT, these startups lack the necessary AI expertise to build tools that are accurate and speedy–because the underlying AI technology lacks years of training to understand fashion. Newer AI algorithms can make mistakes in accuracy and relevance, creating a risk for retailers adopting these tools.
Are legacy AI solutions providers capable of building complete AI solutions?
Legacy AI for eCommerce solutions are solving only one piece of the puzzle, lacking integrated AI capabilities to power seamless personalization and discovery experiences.
That leaves retailers cobbling together different vendors to create a full personalization and discovery experience, resulting in higher costs, a disjointed experience, and missed opportunities to scale personalization.
5 Reasons Why YesPlz AI Is The Best Solution for Your Ecommerce in 2023:
1- Advanced fashion AI that's been trained for years
Unlike newcomers to the market, we've been training our AI to understand the details of fashion, from identifying vibe to piecing together attribute similarities to create similar recommendations.
This level of advanced AI didn't happen overnight–we first defined the core fashion attributes that mattered to shoppers through user interviews, then trained our AI–and continued to refine the tagging results with real fashion experts.
Our years of experience in fashion AI is a key differentiator between us and newcomers to the market, whose technology may appear sleek, but is not built for scalable, advanced personalization–often resulting in low accuracy results.
And, with shared AI infrastructure across our integrated suite of discovery apps, we provide laser-accurate product matching.
2- We integrate directly with retailer catalogs, making it easy to feed our AI with your product data.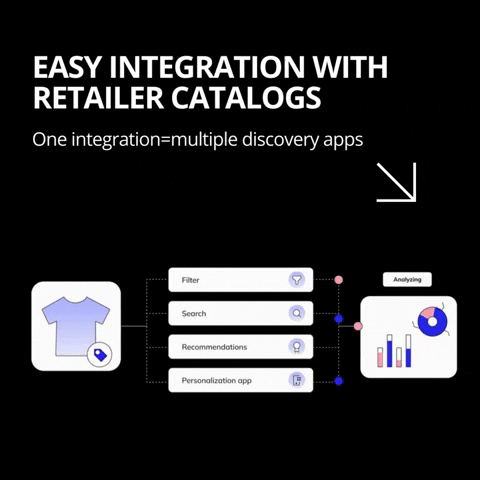 With seamless integration for retailers' product catalogs through APIs or data feeds, we can quickly understand and accurately tag your catalog. In one, simple integration, retailers can access multiple discovery apps, creating a unified personalization experience for shoppers.
3- YesPlz AI provides an end-to-end personalization experience that benefits retailers and shoppers alike.
One of YesPlz's most popular tools, GPT AI Stylist, isn't just a lookbook for your products.
We're building technology that is robust and scalable, designed to engage shoppers at every step of their journey, and understand every question or prompt they have.
The GPT AI Stylist can dynamically learn from shopper behavior, showing shoppers products from the entire catalog, based on their preferences, likes, and dislikes.
4- Our fashion AI products have proven shopper conversion.
Our products aren't just wireframes–they're available, built, and actively used by some of the top fashion brands like W Concept, Kolon Mall, and Lately.
Retailers that plugged into the YesPlz AI Discovery Suite saw a 1.7x increase in average cart size, and 10% increase in average cart value. Because retailers were able to access an integrated product discovery suite, they not only saved on costs, but saw higher conversions thanks to AI synergies.
We're actively testing and improving–and we've been doing so for years, so we're lightyears ahead of the curve with our advanced technology and product quality.
5- We have an all-in-one discovery solution–you can mix and match to choose which discovery tools suit your needs.
We aren't creating singular discovery apps that only solve one piece of the search and discovery problem. Because we have a suite of integrated discovery products, retailers have flexibility in choosing the AI for eCommerce solutions that fit their needs.
Since our products work together, we can unlock an entirely new level of personalization that drives sales and engagement.
All of our products have one common trait: they're making product discovery and search more intuitive and more personalized. And, when retailers plug into the YesPlz suite of discovery products, they quickly see that each app strengthens the other through dynamic learning and optimization.
The synergy between apps creates unparalleled personalization for shoppers, leading to laser-accurate recommendations and product matches based on individual shoppers' tastes.
We can help retailers explore which product discovery mix is best for their needs through a free, 20-minute expert consultancy.