Personalization isn't a new conversation in eCommerce, but with the help of AI, it's becoming more powerful than ever before. Recent advances in fashion AI give eCommerce retailers the opportunity to create hyper-personalized shopping experiences, tailored to each shopper.
YesPlz research shows that shoppers crave tailored recommendations, and want to see products specifically tailored to their needs and preferences.
With the YesPlz ChatGPT Stylist, a new virtual styling experience that integrates with any product catalog, shoppers can have a personalized experience with an AI-powered stylist. We've enhanced the YesPlz ChatGPT Stylist to include even more personalization.
In this article, we'll go over the latest personalization updates for YesPlz ChatGPT Stylist, and the impact on shoppers and retailers.
Remix Entire Outfits for Endless Possibilities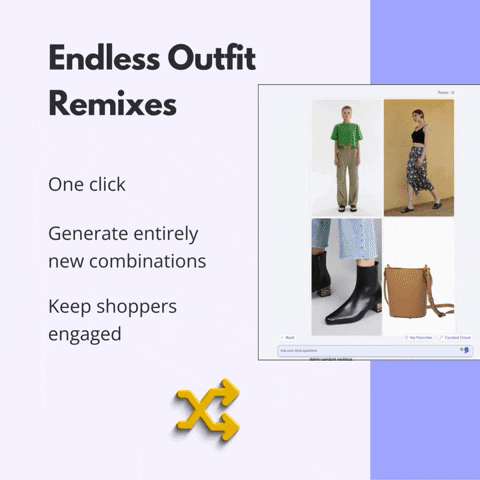 Instead of having to scroll back and forth, shoppers can select to see full outfit combinations.
YesPlz ChatGPT Stylist's outfit remixing feature lets shoppers change (or "remix") full outfits to explore endless variations and fresh, new outfits. This creates a dynamic experience where customers actively collaborate with the AI stylist.
With research showing that shoppers prefer personalized products, remixing outfits is a new way to keep shoppers engaged while continuing to offer personalization.
Because there are infinite outfit combinations, shoppers are never stuck looking at the same repeated looks.
Refresh One Single Product to Stay Engaged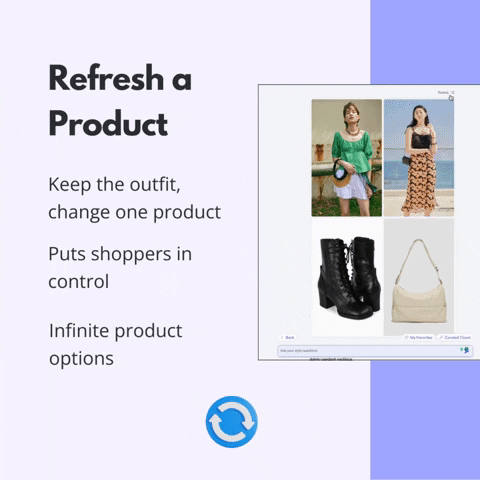 Love the outfit, but want to see more shoes to go with the look?
Simply click the refresh icon on the product image, and see more shoes.
Shoppers can zoom in on their perfect outfit, and see more products to complement the look. Rather than starting the discovery journey again, they can refresh the product to continue to find products tailored to their individual tastes.
Curated Collections that Elevate the Shopping Experience
After favoriting the products they love, shoppers can click "Curated Closet" to explore unique product curations made just for them, using fashion-trained AI. These curations feature products with similar design attributes and vibe, keeping recommendations fresh but relevant.
Kickstart AI Personalization with Short Style Quizzes
The ChatGPT Stylist experience starts with an optional, 4-question style quiz to discover shopper silhouette and design preferences, kickstarting the process of delivering highly personalized product recommendations.
The quiz gives YesPlz's AI crucial information about shoppers' fashion tastes upfront–and information can be helpful to retailers looking to learn more about their shoppers.
Instant User Feedback for Smarter AI
A straightforward thumbs up or down on product recommendations trains the AI to make even more targeted, better recommendations. And, it's intuitive for shoppers, who can easily understand the icons.
Connect with Shoppers through Editable Prompts
When shoppers first engage with YesPlz ChatGPT Stylist, they see AI-suggested question prompts to kick-off the eCommerce discovery experience.
We've made these prompts editable by retailers, who can now edit the conversational prompts to highlight relevant seasonal products, trends, promotions, or any other preference. Retailers can now directly connect with shoppers through a new channel of conversation.
And, since prompt data can reveal shopper insights, retailers can access that data to create future product recommendations and learn more about their shoppers.
The AI Personalization in eCommerce Impact for Business
The data gathered from shopper interactions and preferences feeds back into the AI engine, allowing it to get smarter and serve up better recommendations over time through reinforcement learning.
What does this mean for retailers?
For retailers that are still using costly 1:1 expert styling, YesPlz ChatGPT Stylist offers a scalable, personalized solution that is constantly making efficient, advanced recommendations. It can be used to interface with clients, and still provide a tailored experience while providing valuable information to retailers about shopper preferences.
Most importantly, it has the power to delight and convert shoppers, who are unwilling to sit through poor product recommendations and long wait times for styling services.
The Future of Shopping Is AI Personalization
YesPlz ChatGPT Stylist allows shoppers to speak naturally about their styling preferences and receive personalized recommendations in real time. Through our unique fashion transformer, we're able to understand both shopper prompts and retailer product catalogs to deliver the best recommendations to each individual shopper.
Another benefit--AI personalization allows retailers to stay up-to-date with the latest trends:


As AI continues to develop in 2023, we believe it will change the shopping experience forever.
Are you ready to give your shoppers a personalized discovery experience?