With the holiday season starting earlier than ever, Shopify merchants can expect this season to be more demanding than before. Black Friday 2021 has suddenly become Cyber Monday, customer demands are at an all-time high, and eCommerce retailers are stepping up their game with more attention to social media and personalization.
The key to winning Black Friday 2021 (and the holiday season beyond), is to create a plan for success. But, planning for Black Friday is easier said than done. While it may be tempting to think short-term, your Shopify store's Black Friday success depends on implementing long-term solutions. In the following tips, we combine both long-term and short-term ideas for Black Friday 2021 success.
GET READY FOR THE 2021 HOLIDAY SEASON WITH OUR MUST-READ EBOOK.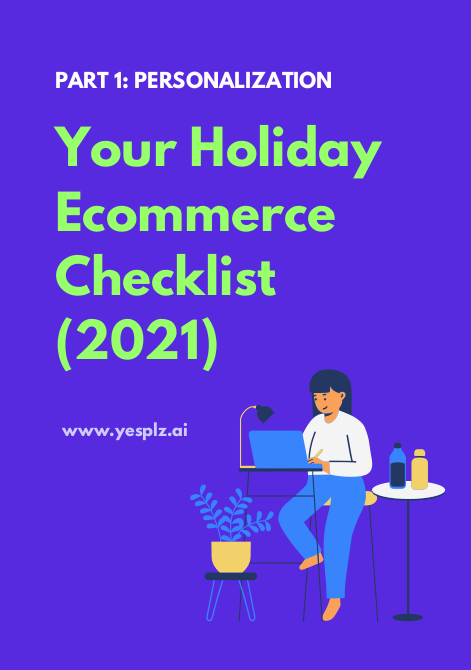 Tips and tricks for personalizing your eCommerce
Why personalization is the key to eCommerce success this holiday season
Common mistakes made by eCommerce companies
GET THE GUIDE
Black Friday Tip #1: Shoppers want to see personalization
With a wide range of options available, shoppers expect curated product recommendations, targeted ads, and the ability to personalize their shopping experience unique to their personal needs. Personalization is no longer a "nice-to-have"--it's a minimum expectation this holiday season. During Black Friday 2021, shoppers will need to make quick assessments on which websites have suitable products for their needs--and without a personalization plan, shoppers may miss out on relevant products in your store, simply because they never see those products.
Personalization can take many forms for Shopify merchants, from targeted ads to product recommendations. You'll need to reflect on your business needs to choose the best personalization tool, but personalization can have a huge impact on your bottom line this Black Friday 2021.
What you can do today: Implement a personalization tool that allows shoppers to customize their search based on personal preferences. Our research at YesPlz AI has shown that customers prefer to personalize their product discovery experience based on fit and silhouette.

The Style Filter allows customers to personalize their search for clothes while still maintaining accurate search results.
Black Friday Tip #2: Optimize the eCommerce user journey to make every touchpoint seamless.
This Black Friday, when shoppers land on your Shopify website, ask yourself 3 questions:
1) What's the first content and point shoppers land on?
2) How can shoppers search for an item? Do all shoppers have the same search intent?
3) What channels are shoppers arriving from?
Shoppers have what's called "vague memory recall" when looking for a product. Perhaps they saw a pair of jeans in-store or a friend told them about a neon colored block-heel. What's good about vague memory recall is that shoppers have some idea of what they want, making it easier to guide them and personalize the experience. However, shoppers with vague memory recall struggle with eCommerce user journeys that are reliant on text. Shoppers may incorrectly remember text-based phrases as they're picturing an image in their mind.
What you can do today: Immediately optimize the eCommerce user journey using these tips. Create a simple flowchart to map out user flow and understand how you can make the user experience more enjoyable. For example, is there a part of your website that requires users to complete many steps in order to finish an action such as check-out?
Black Friday Tip #3: Product recommendations can create higher-value shopping carts.
When shoppers visit your Shopify website on Black Friday 2021, they may have one specific purchase in mind. But, relevant, fashion-oriented product recommendations can nudge shoppers to continue to explore, even if the current product they're viewing isn't a good fit for their criteria.
For example, a customer viewing a brown puffer-winter jacket will not be interested in seeing denim shorts or light cardigans as recommendations. So, why do so many eCommerce retailers continue to show irrelevant product recommendations?
Their product recommendation tools aren't using technology trained to understand how shoppers think. At YesPlz AI, our product recommendation tool can identify and tag key product attributes (such as color or fit) and then rank those recommendations based on relevance. The YesPlz AI product recommendation is actively filtering out irrelevant products to find the best possible match.
During peak Black Friday 2021 shopping times, whether your store has relevant product recommendations can either keep a customer shopping for longer or deter customers.
What you can do today: Re-evaluate the product recommendations that you're showing customers. Are the product recommendations relevant? Accurate? On Black Friday, product recommendations will affect your customers' cart sizes.
Contact us for a free consultation to discuss how to improve your product recommendations on Shopify.

Black Friday Tip #4: The post-pandemic customer values genuine and authentic communities.
One outcome of the pandemic is an increased emphasis on authenticity and genuine brands. With more time to re-evaluate their priorities and more time spent isolated, the post-pandemic customer is craving purchases from brands that are fulfilling.
Even if your brand doesn't have a social-impact mission, your Shopify business can still create an active community around what you're selling. For example, if your store is selling bridesmaid dresses, there's an opportunity to create content about friendship and fashion. Or, you can even let customers upload pictures of how they styled the dress for their body type, and let customers interact with each other. Social media is another channel to create a sense of community for customers, and a place where your store can upload user-generated content.
The direct benefit of building a community for your brand is immense (think: increased customer loyalty and engagement), but it may take time before you have thousands of members.
What you can do today: Test different community engagement strategies, on platforms that your brand is already utilizing, such as Instagram, Twitter, or Facebook. For example, you could ask customers to add a special hashtag to their posts featuring your product for a discount in return. Or, even easier, your brand can feature customer's stories on Instagram. By trying out various engagement strategies, your brand can start building customer loyalty and community.
Black Friday Tip #5: Complete small tasks that are low-effort, high-impact before Black Friday.
If you have a task you've been putting off, and it takes less than 1 hour--just do it.
Do the obvious tasks before Black Friday 2021--the ones you may have been avoiding because it's just plain annoying. We recommend taking a look at the tasks you keep pushing back, but could have a high impact on the customer experience.
Have you been meaning to get around to re-writing unclear product descriptions? Spruce up those product descriptions before Black Friday, when thousands of customers could potentially read them
Have you been meaning to change the colors of the buttons on your homepage, to make them stand out more to visitors?
Remember: On Black Friday 2021, you have just a few moments to capture the shopper's attention. Make those moments count with up-to-date product descriptions, a homepage/landing page that's optimized for the user journey, and easy-to-understand navigation on your website.
Looking for more resources for a successful holiday season?
GET READY FOR THE 2021 HOLIDAY SEASON WITH OUR MUST-READ EBOOK.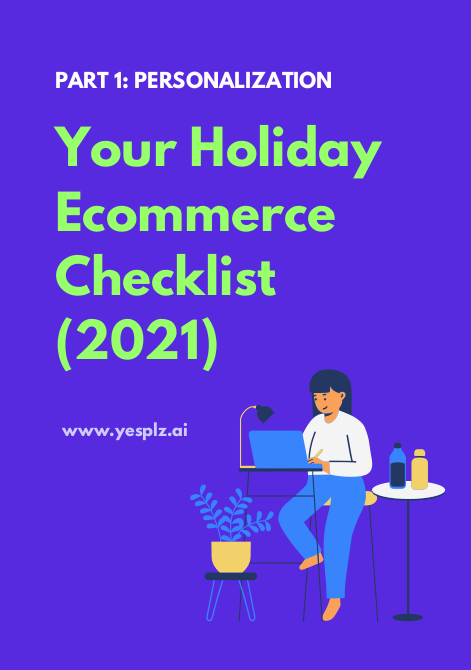 Tips and tricks for personalizing your eCommerce
Why personalization is the key to eCommerce success this holiday season
Common mistakes made by eCommerce companies
GET THE GUIDE
Contact us today to schedule a free consultation