There's a problem with the current state of eCommerce discovery: siloed apps that don't work together to deliver a consistent product discovery experience, leaving shoppers frustrated and unable to find the products they want.
And, despite understanding the seriousness of the problem, the industry has not been able to fix it.
64% of website managers say their company doesn't have a clear plan of how to make it easier for customers to find products (Source: Google Cloud)
A typical text search on a fashion eCommerce website requires shoppers to know the exact keywords to avoid a dead-end:
With no other points of engagement (like recommendations of next-best products), shoppers bounce to the next competitor's website.
And, when shoppers do get search results back, they often end up in repetitive discovery loops, seeing the same repeated products, and unable to discover the full extent of a product catalog.
The root problem is that eCommerce discovery is siloed: different product discovery apps are used for different parts of the journey, resulting in a disconnected product discovery experience.
From mismatched search results to repetitive discovery loops, shoppers aren't getting the most out of product discovery when they're on retailers' websites.
Why Incremental Improvements to eCommerce Discovery Aren't Enough
Ecommerce discovery is more than just search or recommendations: it's the entire shopper experience, from the moment they arrive on a retailer's website.
Improving text search is just one part of the equation. Shoppers also use filters to narrow their results, and they rely on product recommendations to guide them through the buying process.
On top of that, improving only one piece of eCommerce discovery is expensive when there are multiple service providers, making it difficult for retailers.
And, most importantly, incremental improvements to parts of the eCommerce discovery journey aren't enough to make a dent in the overall problem: shoppers need seamless end-to-end product discovery experiences from the moment they land on a website to checkout.
The Answer: Holistic eCommerce Discovery, Powered by Fashion AI
A holistic approach to eCommerce discovery means that all product discovery apps are working together to deliver a consistent product discovery experience.
Every stage of product discovery is optimized using AI and analytics, which means retailers can make product discovery improvements to every app.
And, shoppers can effectively explore a retailer's entire product catalog, and discover the rich collection of products at every stage.
No matter where shopper starts their journey: filters or text search, they have different cues to help them.
For example, an optimized text search has product previews and trending popular keywords. Or, AI styling remembers a shopper's preferences and makes recommendations based on favorited items.
Does this sound like a lot of work? Or even unrealistic?
Thanks to powerful fashion-trained AI, YesPlz can create a holistic product discovery experience that is consistent across all apps and touchpoints.
YesPlz makes product discovery easy by building apps that are seamlessly integrated with each other. AI image tagging makes sure every app has consistent product data and allows us to create a personalized experience for every shopper.
1) Dynamic, smart fashion filters that include a one-of-a-kind virtual mannequin filter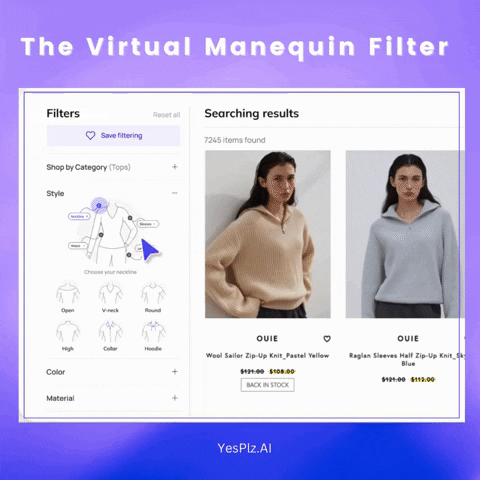 Using fashion AI, we built:
a) Customizable faceted filters
b) Thematic filters with automatically created categories
c) A virtual mannequin filter that guides shoppers in filtering by fit, silhouette, color, and more
2) Enhanced site search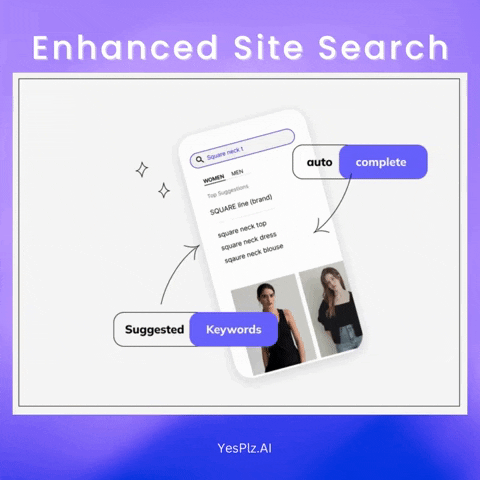 YesPlz transforms text search by combining the best of natural language processing (NLP), keyword matching, and computer vision to make text search filled with suggestions and cues that are relevant to queries.
With search preview images, popular trending keywords, auto-complete, and on-page filtering, shoppers have multiple touchpoints to engage with discovery, guiding them to the products they are looking for.
3) Accurate product recommendations that use combined technology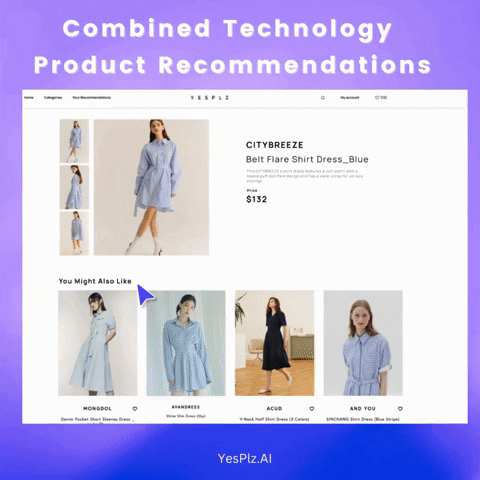 Similar recommendations show shoppers products that are similar in design and vibe, but different enough to keep shoppers interested and continuously discovering.
Collaborative recommendations show shoppers products that are liked by people with similar taste. And, by combining these recommendations, YesPlz can create a recommendation system that is part of holistic eCommerce discovery.
4) The World's First AI Stylist, powered by ChatGPT
Imagine being able to ask an AI stylist for product recommendations for any occasion, in whatever words feel comfortable to you. With the GPT Fashion Stylist, shoppers can have a continuous discovery experience that is tailored to their unique tastes, and receive fashion-forward recommendations from an AI stylist that's trained to understand fashion.
AI Image Tagging Drives Holistic eCommerce Product Discovery
What's the secret to building end-to-end eCommerce product discovery?
AI image tagging.
Product tags are the building blocks of creating robust product discovery. But, it's easy to make a mistake when tagging manually, leading to inaccurate and incomplete discovery apps.
More advanced tagging uses AI to recognize multiple attributes, ranging from silhouette to vibe.
YesPlz deep tagging technology lets us tag product images, building a completely tagged product catalog.
Then, we use those product tags to create holistic product discovery, and even stronger apps.
Behind the Scenes: A Look at How We Created Our Product Discovery Apps
After hundreds of user interviews, we know that the best way to build a holistic product discovery app is to build based on shopper needs.
So, what did we find out from our research?
1) Personalized experiences matter
In 2023, personalization is no longer a nice-to-have, but rather, a must-have for eCommerce brands.
2) Silhouette and fit are valued by shoppers
Shoppers know themselves and their preferences best when it comes to silhouette and fit. A shopper that wants to cover her arms wants to be able to search by her preferred fit, and easily.
Technology should be advanced enough to allow shoppers to ask queries in their own language, and provide advanced styling.
Based on this research, we built holistic eCommerce discovery that allows shoppers to discover products by silhouette, fit, and vibe.
Shoppers using YesPlz eCommerce discovery have a very different shopping experience: one that's personalized using fashion AI.
The Missing Piece for Retailers: Single Integration for Multiple Discovery Apps
Holistic eCommerce discovery sounds like a great idea, but with so many different apps and vendors, retailers worry that they will have to deal with multiple vendors and integrations.
With YesPlz single integration, all retailers need to do is plug into one API, and gain access to all of the discovery apps.
No more third-party vendor fatigue. No more integration headaches. And no more data silos.
With one integration, retailers can access: AI styling, recommendations, virtual mannequin filter, smart product filters, enhanced eCommerce site search, and AI product tagging.
And shoppers keep discovering the products that they love.