Fashion eCommerce is undergoing a remarkable transformation: with ChatGPT as the latest and greatest in generative AI, it's quickly becoming a must-have for eCommerce retailers looking to improve eCommerce product discovery and shopper engagement.
The fashion eCommerce industry is at a unique point in time: we see companies beginning to embrace ChatGPT integration to make search better for users.
Leading fashion retailers such as Zalando, Mercari, and Myntra quickly launched ChatGPT-powered tools to improve the current search and discovery experience.
We're excited for the industry as a whole, as companies begin to integrate emerging technology to make search better for users.
Poor search and discovery is ​​a major pain point for eCommerce shoppers and retailers alike, leading to a lack of product discovery.
In this article, we'll break down each of the company's tools' features, and compare them with each other to give you a clearer idea of the current landscape.
We'll also compare these tools with YesPlz's GPT Fashion Stylist to learn more about the groundbreaking discovery experiences we're creating using all kinds of fashion AI that we've been working on for years.
Let's dive into the first major point of differentiation:
Search vs. eCommerce Product Discovery?
Zalando, Mercari, and Myntra all have built their ChatGPT recommendation tools for their own websites enhancing their search experience.
By building for their own discovery, these companies are offering improvements to their users.
But, what about intuitive and personalized robust product discovery– shoppers have been asking about?
YesPlz offers a white-label service to eCommerce retailers to build a full product discovery experience.
We built the GPT Fashion Stylist to not only transform search, but to create an intuitive product discovery experience. With years of research and development, we have created an AI stylist that is more than a simple integration of ChatGPT.
Instead, GPT Fashion Stylist combines fashion artificial intelligence that we've trained for years, with deep product tagging, NLP, and generative AI, to create a truly interactive, unique shopping experience full of curation and personalization.
We work with retailers to build customized product discovery experiences, creating natural experiences for shoppers to discover the full extent of a retailer's product catalog through AI-powered personalization.
For example, YesPlz users can have an ongoing conversation with an AI shopping assistant, access personalized curations, and take advantage of style quizzes to better define their recommendations.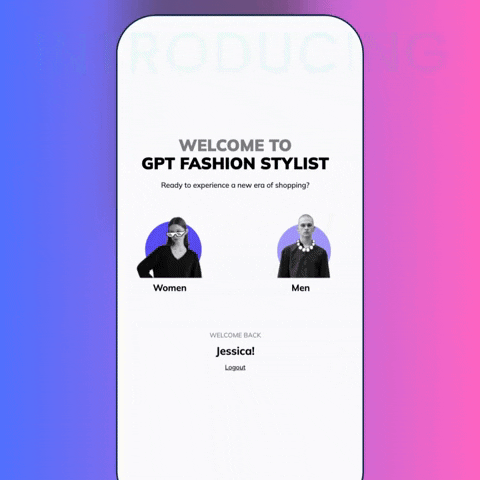 While other tools are enhancing the search experience on their respective websites, YesPlz is pioneering a novel approach to product discovery.
Our goal is to develop a fresh, natural shopping experience, allowing customers to explore the full depths of a retailer's product catalog.
We'll break down the differences and more details:
Zalando's AI-Powered Fashion Assistant
Zalando is a leading European eCommerce retailer that recently announced their own new AI-powered fashion assistant, which uses generative AI to help shoppers search for products on Zalando.
We love that more brands are using ChatGPT-powered tools to enhance the shopper experience and get creative with AI. And, the conversational style makes it easy for shoppers to search naturally.
When compared to YesPlz's GPT Fashion Stylist, we can see that Zalando's Fashion Assistant is more of an enhanced search function that offers an interesting way for shoppers to search, versus a full personalization engine.
Zalando's Key Features:
Natural Language Processing: a shopper can ask for style advice or suggestions
Product recommendations from the catalog
Style suggestions, like strappy sandals to match a dress
Conversational & chat-style interface
Mercari's Merchat AI Chat
Mercari is Japan's largest community-powered marketplace where shoppers can buy and sell items from clothing to seasonal decor.
Mercari recently announced the launch of its GPT-powered shopping assistant, which takes the lead in conversations, asking plenty of questions before giving a recommendation.
We love that Mercari is taking an innovative approach to enhancing search for its users, making it easier for shoppers to navigate its large volume of user-uploaded products.
Although Mercari offers prompts to start off shoppers, the prompts aren't based on fashion and aren't personalized based on the shopper's preferences.
And, search results seem to be based on one of the search keywords, versus the whole phrase, leading to limited search results.
Overall, the Mercari AI experience offers an incremental improvement to the site search experience.
Mercari key features:
NLP: a shopper can ask for style advice or suggestions
Product recommendations from the catalog
Style suggestions like yellow long sleeve formal gowns
Filtering questions, such as color and size
Myntra's My Fashion GPT:
Myntra is a major Indian eCommerce platform, offering clothing and lifestyle products. Their "My Fashion GPT" is another example of an emerging tool utilizing ChatGPT for eCommerce.
Shoppers can type in their styling requests, and receive recommendations.
We think that they offer a thoughtful curation across categories, and like that they offer different curation collections for shoppers to scroll through.
Currently, Myntra's search only understands limited keywords, versus understands the full extent of language in the prompt.
Shoppers have to click back to re-start their search, making "Fashion GPT" a good starting point for rethinking search, but not creating a full personalization experience.
Myntra Key Features:
Pre-curated prompt examples
NLP: a shopper can ask for style advice or suggestions
Product recommendations from the catalog
A product suggestion; ex: Strappy heels
Complementary category recommendations
YesPlz GPT Fashion Stylist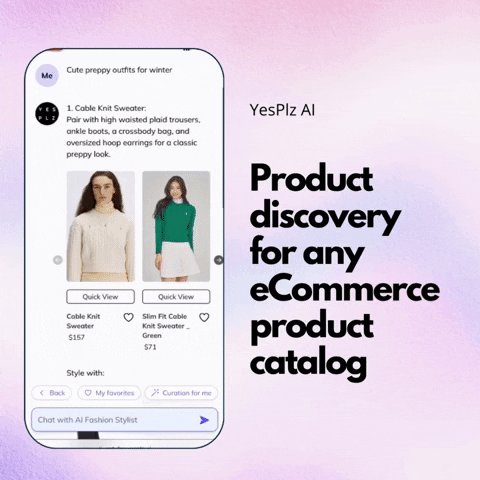 YesPlz's GPT Fashion Stylist journey is circular: we're creating an end-to-end shopping experience:
YesPlz shoppers start with a popular or personalized prompt, and then get integrated product recommendations, along with complete the look products.
They can continue the conversation by selecting an AI-generated, relevant prompt, or type their next query directly into the chatbot.
This maximizes product discovery, as shoppers are able to browse and shop multiple product categories without needing to click back.
YesPlz AI Key Features:
Pre-curated popular prompts: helps discover new styles
NLP: a shopper can ask for any style advice or suggestions
Product recommendations from catalog
Style suggestions along with similar products and complementary products
AI generated follow-up prompts: easy search and discovery helps shoppers quickly narrow down to their styles. Shopping journeys flow naturally.
AI's picks: Based on a shopper's likes and answers to the fashion quiz, AI makes the personalized curation of the styles for an individual shopper.
White label service: Works for any retailer catalog.
Deep product tagging: Search results are enhanced and more personalized with deep product tagging technology.
A Quick Overview of eCommerce Product Discovery Tools Using ChatGPT:
Here's a few key differences between the tools we discussed:
After extensive research with shoppers, we learned that they're looking for more than search–they also want a fun, seamless and intuitive discovery experience. And, shoppers are tired of doing the majority of the work to find products.
With this valuable information in mind, we took a few steps further than simply integrating ChatGPT into search. Instead, we're personalizing the entire end-to-end discovery experience for shoppers.
Since our specialty is building AI that specializes in fashion, we already had the core components ready to go, and highly optimized.
With the insights that we learned, we were able to create a fluid discovery journey, complete with refined t use cases, and have been developing the technology to back up use cases.
Problem 1: Search discovery is poor for users
The quality of search is poor. Shoppers can't find what they want, and when looking through large product catalogs, they're often shown the same selections of clothing with traditional search and recommendations.
Insular search means less engagement from shoppers, as they've grown accustomed to seeing the same products.
Problem 2: Shoppers aren't discovering the full extent of product catalogs
From the point of view of retailers, insular product discovery also means that shoppers aren't discovering the depth of their product catalogs, leaving many products unsold and undiscovered.
YesPlz is solving both of these problems by building an end-to-end personalized discovery experience, using ChatGPT as well as other AI-based technologies.
YesPlz is building an end-to-end personalized discovery experience, unlike others
We created ​​a personalized discovery experience for shoppers in a space that's perfect for improvement.
By harnessing our years of research and development in fashion AI, the GPT Fashion Stylist is a unique discovery experience that solves some of the most pressing issues in fashion eCommerce.
The fashion eCommerce industry is inevitably going to evolve more with integrating new technology, and we're excited to see what's more to come.