The hottest news for this week is that TikTok just announced that TikTok Shop is now live for US users.
And TikTok isn't the only company entering the hybrid eCommerce-personalization-social shopping space: Amazon, Pinterest, Instagram, and Shopify have all recently announced that they are either building out online shopping, product discovery, and/or personalization.
As part of the rollout, TikTok is adding features like a dedicated Shop tab, live video shopping, shoppable ads, and affiliate programs for creators.
TikTok Shop allows users to shop directly within the TikTok app and is aimed at becoming a major new revenue stream for the company
The launch aims to capitalize on the popularity of social trends and challenge mainstay shopping platforms.
What does this mean for eCommerce businesses keeping up with the news? Are we entering a new era of product discovery?
We'll take a look at how TikTok Shop works, and compare it to other social shopping platforms.
TikTok Shop vs. Instagram Shopping vs. Shopify's 'Shop'
Instagram Shopping allows businesses to tag products, making Instagram posts instantly shoppable. Brands can also set up Instagram shops within the app, to show off collections. Shoppers can checkout within the app.
Both TikTok Shop and Instagram Shop are leaning towards the idea that creators and influencers will promote products their posts, making the shopping experience more social. And, both are looking to capitalize on social app users and trends.
Shop offers personalized shopping within its ecosystem of Shopify brands, and includes an AI-powered digital assistant to guide purchases, where shoppers can have an ongoing chat. Shop also has in-app recommendations to lead shoppers back to Shopify stores.
A user's Shops tab acts as a personalized shopping feed that populates with product picks, special deals, and new arrivals based on their purchase history and the brands they follow on Shop.
All of these apps have the same goal: to keep users on the app, and to make shopping more convenient, more fun, and more personalized.
Limitations
While it's exciting to see new product discovery innovation, the filtering functionality for all 3 apps are still limited at best. All offer very basic filters, such as color and size–but not more advanced like design or silhouettes.
And, there is still limited search capability once shoppers go "off-script."
For example, we asked Shop's virtual assistant to find us yellow sweaters for fall, but instead of selecting from the limited size filters suggested, we typed in "Size 8." And, in return, received inaccurate search results that ranged from baby sweaters to the wrong color.
When we typed "pink jumpsuit" into TikTok Shop, there were also mixed search results.
Are social apps the future of shopping?
Social apps offer a more visual, engaging way to find products based on influencer recommendations and take advantage of users already on the platform,
TikTok Shop aims to drive product discovery through its personalized algorithm.
However, will shoppers get influencer fatigue, tired of seeing constant promotions?
And for brands, social apps aren't a replacement for a thorough product discovery strategy. It can be a great supplement to drive traffic to your website, but it won't replace your customized onsite search and personalization.
Can eCommerce brands "recapture the joy of shopping?"
"If the first 20 years of e-commerce solved for instant buying, the next 20 will solve for the joy of shopping." -Pinterest

We agree! Based on our own research, we know that shoppers expect to see personalization, and want to be served individual recommendations based on their unique needs.
As these social apps continue to dip their toes into the eCommerce space, we believe that eCommerce brands should consider collaboration with these platforms for more exposure and discovering new clients.
However, eCommerce brands still need to have their own brand presence on their own website, where they can control the discovery experience and have control over the customer journey, including which products shoppers see and when.
We all agree that personalization is the future of shopping.
Unfortunately, the majority of retailers are unable to deliver personalization at scale due to lack of technology and high costs.
Did you know that YesPlz AI offers end-to-end personalization that any retailer can plug into and integrate their product catalog?
With YesPlz AI personalization, each shopper sees unique product recommendations based on their interactions. Our AI can read the pattern of the products shoppers viewed, loved, or purchased in the past, and quickly analyze thousands of products, matching the key patterns.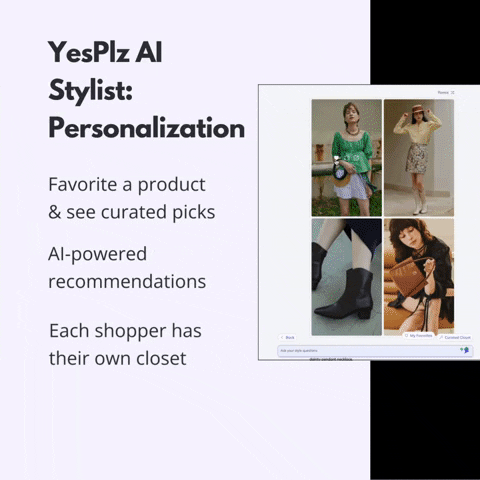 There's no need for human stylists, and no need for tons of interactions to get started in personalizing.
YesPlz has partnered with global fashion brands specializing in unique product discovery solutions powered by AI. Now any size business can use cutting-edge fashion AI to stand out from the competition and satfisfy modern shoppers.