The best part of fashion is expressing yourself with different looks for different scenarios.
And, the worst part? Having to curate those looks yourself with thousands of products on a website, or even worse, trying to use outdated chatbot technology to explain.
Introducing the world's first AI stylist, powered by ChatGPT for Fashion.
Imagine having access to millions of curated fashion styles, perfectly tailored to your specific occasion–all at your fingertips, and powered by fashion artificial intelligence.
A cozy winter lounge set. A flirty date night outfit. Ideas to style a thrifted oversized denim jacket. Gender-neutral work clothing.
YesPlz's GPT AI Stylist has the answer to every style scenario, in any writing style that's comfortable for the shopper; it's like having your own personal AI stylist.
What is the GPT AI stylist?
We're building an AI-powered, virtual personal shopper that's revolutionizing the way shoppers find curated clothing.
Powered by cutting-edge machine learning technology, our AI styling combines the power of natural language processing and advanced computer vision to provide real-time personalization catered to shoppers' unique style preferences.
Shoppers simply ask a prompt, like "Suggest work tops for my Zoom video conference" or "Cute outfits for a beach vacation?" and receive matching products, styles, and suggestions.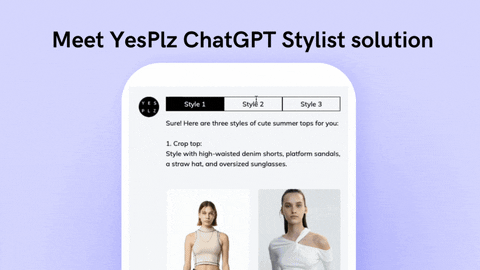 Then, shoppers see clickable product images, and receive styling suggestions to go with the product. The information is visual, easy-to-understand, and relevant to the prompt.
The Technology Behind GPT AI Stylist:
By combining different kinds of fashion artificial intelligence, we've built an AI styling system that is powerful and easy for retailers to integrate with their existing product catalogs.
The technology includes:
AI Image Tagging: Advanced computer vision quickly scans product catalogs and tags product attributes, setting up retailers with the underlying data to successfully curate recommendations.
Generative AI: We use Open AI's technology to generate the responses to the prompts.
NLP: We use NLP to better understand the prompt semantics, specifically through sentence transformers. This means that shoppers don't need to retrofit their language prompts to fit the machine because we can understand all kinds of prompts, even an incomplete question like "Winter outfits?"
Fashion Transformer: Proprietary to YesPlz AI, we built a fashion transformer that translates OpenAI's recommendations, as well as product catalogs. Then, it finds the best matching results. Thanks to the fashion transformer, we can process the matching process from recommendations for thousands of products in a second.
Regular GPT vs. GPT AI Stylist:
Regular GPT:
When asked the open-ended prompt, "What should I wear today?" regular ChatGPT responds with a disappointing answer, stating that as an AI language model, it doesn't have current information on weather, and to "choose clothing appropriate for the temperature."
Because regular ChatGPT is trained to not give an opinion, answers are not interesting enough to give valuable recommendations.
YesPlz's GPT AI Stylist:
In contrast, YesPlz's GPT AI Stylist can give product recommendations that have a point of view, making responses more engaging and rich. And, because it's trained using fashion AI, recommendations are accurate and detailed, with a sense of style.
Responses are formatted in lists that are easy to read, along with integrated product images.

Conversational AI That Makes It Easy to Chat With
"Going out dresses"
"Show me 5 style ideas for a denim jacket"
"How can I wear a pink blazer?"
GPT Fashion Stylist can interpret all of these prompts, and more, thanks to the advanced AI that powers its understanding of semantics. Shoppers can ask questions and get ideas in whatever way feels comfortable to them, without needing to conform to a specific prompt style.
Fashion Expertise That Goes Above And Beyond
Because GPT Fashion Stylist is trained using fashion intelligence, the recommendations go beyond a personal shopper or traditional product recommendations. Behind the scenes, product attributes from style to vibe to occasion are tagged, making it easy for our fashion AI to make relevant recommendations.
Shoppers' unique preferences are also recalled when making product recommendations.
Integrated Images in Product Curation
The nature of shopping is visual, and by adding integrated, clickable products in the responses, retailers can show off their rich product catalog and inspire shoppers to browse new products. And, by integrating product images, shoppers have a better overall experience, as they can view results on-page.
Use Cases for GPT AI Stylist Include:
1. Fashion Styling
AI styling gives shoppers tailored product suggestions based on individual style preferences, including occasion, body type, and event. The underlying technology uses computer vision to tag retailers' product catalogs, resulting in suggestions that aren't repetitive and always fresh. In addition, AI styling gives tips and ideas on how to accessorize products and combine for better outfits.
2. Cross-Category Recommendations
Shoppers see AI product recommendations across product categories that go together–for example, suggesting sneakers that go with jeans, or a handbag to match a dress. By inspiring shoppers to purchase complementary products, retailers can expect to see more product discovery and conversions in different categories.
3. Promote lesser-known products
Retailers struggle to solve the problem of shoppers only choosing the most popular, trending products. With GPT AI Stylist, retailers can show lesser-known products from their catalogs, because the entire product catalog is considered when making recommendations.
4. Make recommendations based on vibe
Whether shoppers want layering outfits for fall or a dress for a graduation ceremony, GPT AI Stylist can interpret any prompt for any occasion. Research shows that shoppers tend to have a general event or occasion in mind when beginning their search, and GPT AI Stylist guides them to products that fit the vibe.
No more stale chat conversations
Slow response times, too text-heavy, and lack of different product curation are just a few of the problems that currently plague chat conversations for retailers.
Shoppers want to see fast responses and most of all, expect to see multiple relevant, matching products.
The GPT AI Stylist can be used to cultivate an elevated brand experience, taking on the role of personal shopper, while offering useful dozens of suggestions with images in-chat.
Spark discovery using GPT AI Stylist
38% of US shoppers stated they would stop shopping at a retailer that made poor product recommendations.
But, it's internally burdensome for retailers to dedicate resources to building out product recommendations on their own.
With GPT Fashion Stylist, retailers can plug in and seamlessly give shoppers personalized recommendations that are relevant, because they're trained by fashion AI.
The Latest News on YesPlz AI Stylist and Personalization
YesPlz built an AI personal stylist that goes beyond what any other tool is capable of, making truly curated, stylish recommendations based on our own machine learning. When shoppers first start to use GPT Fashion Stylist, they're given the option to take a short, 4-question fashion quiz to identify their style preferences.
Then, shoppers are directed to AI-generated prompt ideas based on the most popular prompts to start using the AI personal stylist.
And, unlike Open AI, we can remember previous shopper conversations and have information ready for personalization.
Curious about how our AI Stylist can be integrated into your eCommerce site?
Take a look at our features and tech stacks to see how it works.
Let's check out the AI Stylist integration for fashion brands.