YesPlz is a fully remote team, meaning that all of our daily collaboration takes place on a mix of Slack, Figma, Miro, and Notion, with team meetings on Google Meet. Besides the temptation to constantly add another tool to the mix, another common mishap that we've discovered while working remotely is communication.
The difference between in-office and remote communication is vast. And, while most team members don't need to strategize their communication in-office, we've found that effective communication while working remotely is an entirely different animal.
Theories have floated around that successful remote communication is "burst-y," requiring team members to communicate during certain periods of time, and take individual time to complete tasks in others.
The truth is, there isn't one tried and true best practice for remote communication because it's so new. But, here's what we've learned through our personal experience working on remote teams that stretched from Hungary to Thailand.
In our eBook, we'll go into more details of strategies and templates for communication.
Remote Communication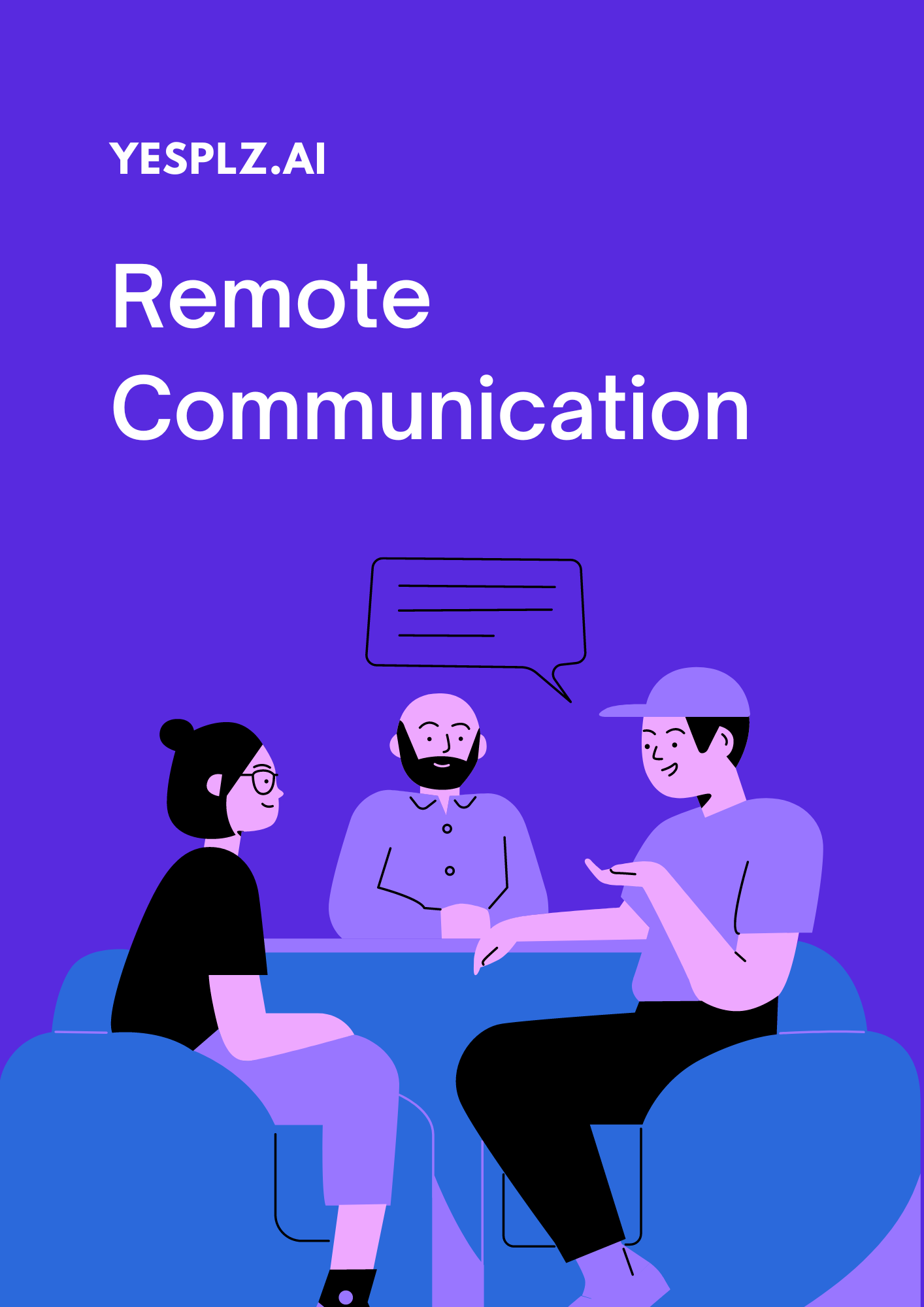 YesPlz tips on communication for remote workers

In this guide, we'll go over:
Writing tips
Communication guidelines
Problem-solving ideas
GET THE GUIDE
Here's a quick summary of what you can expect in the eBook:
Why is remote communication so difficult to get right?
Let's be honest–most of us would rank communication at the bottom of our work priorities, when there's so much to get done. And, in an office setting, communication is hardly a second thought–if we see our co-worker, we'll commiserate with their heavy workload, get an OK for a small but necessary project step, or casually test the waters to make sure our planned summer getaway is still good to go.
But, remotely, we lose those small moments of "mini-communication"--there are no more casual conversations over a cup of morning coffee in the work kitchen.
Being intentional and strategic about communication is the only way to effectively communicate. That means thinking about when to give a project update, how to write that update, and deciding what information to share in a structured way. And, that's not easy when there's no framework for remote communication.
We've found that setting structure around giving daily updates (yes, you should) and asking for help (yes, you also should) can help team members that may struggle to come forward when stuck on a particular problem.
In our eBook, we go over the specific structure and ideas to communicate your needs.
Remote Communication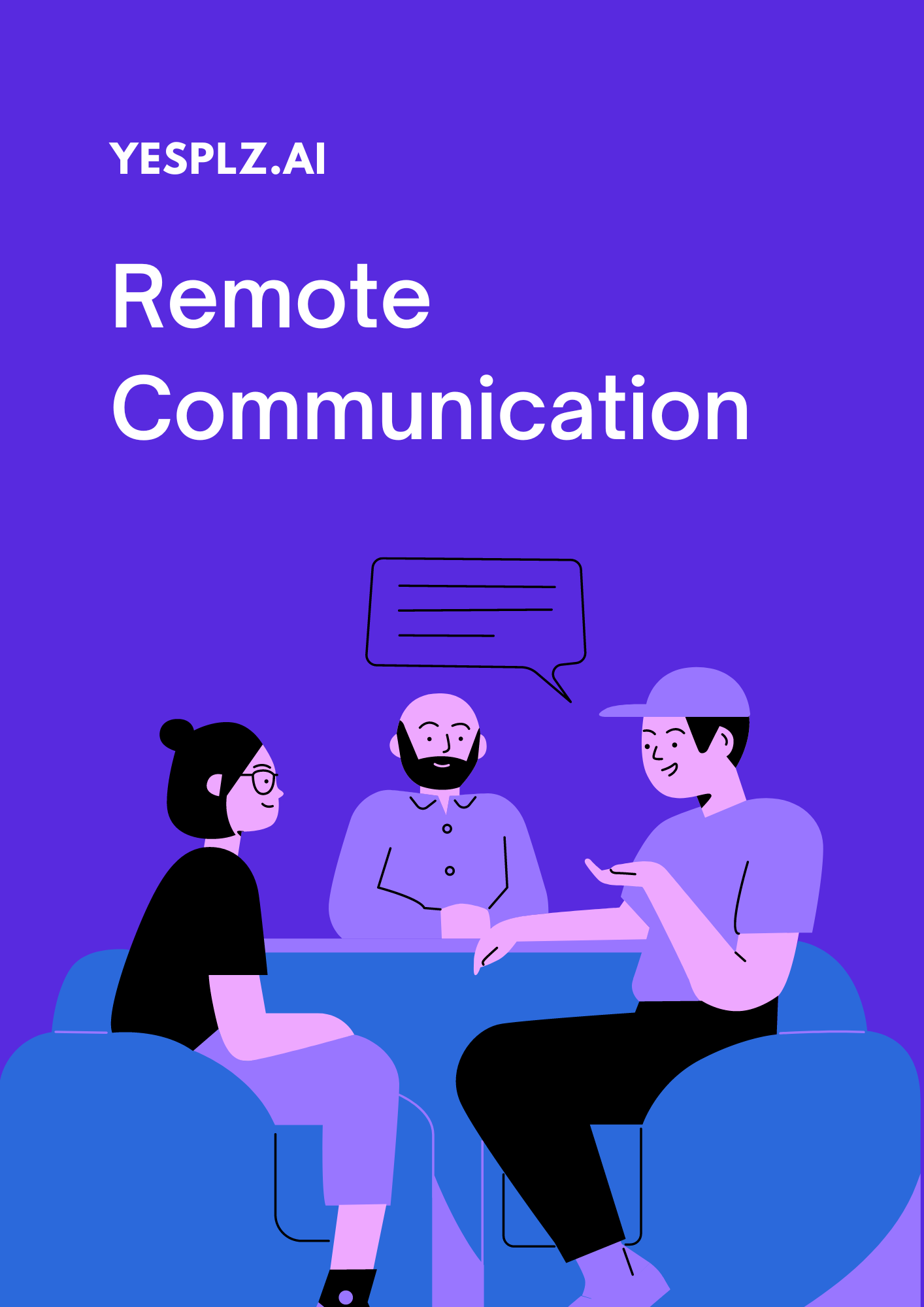 YesPlz tips on communication for remote workers

In this guide, we'll go over:
Writing tips
Communication guidelines
Problem-solving ideas
GET THE GUIDE
Some quick writing tips for remote workers:
Don't bury the lead: If you have a specific ask or question, start or finish the paragraph with your question to make sure that nothing gets lost in the mix
Break up writing into smaller paragraphs: Is there anything more overwhelming than receiving what appears to be a 2-page short story? By breaking up your writing into smaller paragraphs and skipping lines, you're giving others the ability to quickly scan and determine their next steps
Prioritize and then state the priority: Every task cannot be a top priority–if you're asking others to do something, let them know whether or not it's (truly) urgent
Use active language: To the extent possible try to write using simple, active language that anyone can quickly understand
If we can leave you with one closing tip, it's:
When in doubt, over-communicate.
In our experience, no one can remember what every single team member is working on during every part of the day–so on the days when team members need space to be productive, that's totally normal. But, it's important to communicate when space is needed, so that everyone remains on the same page.
We love working as a distributed team–and the learning that comes along with it. Check out our LinkedIn page for more YesPlz tips.