(Quick video summary from our webinar 'Why fashion eCommerce needs visual search?")
---
Given the potential of visual search in eCommerce, we would expect to see a long list of companies that have already implemented the technology.
That's not the case–and not for lack of excitement or impact, but because of a number of reasons:
1. Fashion eCommerce companies are still relying on text-based systems. For example, we've seen companies struggle to keep up with manual tagging, which can be time-consuming, error-prone, and doesn't set the foundation for superior search and recommendations.
2. Fashion visual search requires a re-think to the search experience, performance metrics, and what a successful customer journey looks like.
3. Because of the rapid growth of eCommerce, many search systems are patchworked together, building on legacy systems that were implemented years ago.
But, we're at a tipping point for product discovery. Companies that were previously opposed to integrating new technology because of the learning curve are now realizing that the landscape of search is about to change in the near future.
Fashion Visual Search and Catalog Management: Shein
Fashion visual search isn't only limited to the user's active search experience. Behind the scenes, retailers need to tag product attributes to provide information to search filters and recommendation tools. But, product tagging can be time-consuming and inaccurate when done manually. Combined with overwhelmingly large product catalogs and different naming conventions for fashion terminology, manual product tagging is ineffective.


By using AI image tagging, product attributes are automatically tagged, leading to richer search filters and results. A single product image usually contains between 20 to 60 product attributes.
In the example below, a user selects the "cartoon" pattern type, and the search results aren't only limited to products with "cartoon" in the name–visual search is empowering the search experience by providing thorough, accurate image tagging.
Looking to learn more about visual search?


Schedule a free 20-minute consultation
Visual discovery is a way to compete against social commerce
The way that customers shop has changed, with the addition of new platforms that are offering shopping in-app, such as Instagram and TikTok. The rise in social commerce has two effects:
1) Shoppers are making their purchases on social platforms, causing eCommerce companies to lose valuable customer data.
2) Because of the visually-rich experience in social commerce, when shoppers land on a text-based eCommerce site, the experience can be jarring and lead them to bounce.
Combined with their newfound digital sophistication from spending more time online during the pandemic, customer expectations have risen to an all-time high in eCommerce. Customers now expect to visit websites that are differentiated from competitors and are exciting to explore–or else they'll choose one of their many other options to shop from.
Fashion Visual Search Done Right: Levi's Jeans
One of the best examples of a brand implementing visual search in eCommerce is Levi's Jeans, the beloved legacy brand that has positioned itself as the leader of jeans. Levi's educated customers on the language of jeans, training shoppers to know their favorite cut and styles.
Levi's took a systematic approach to thinking about visual search for clothes–because it's not just about installing a new tool on a website. Fashion visual search works best when it's comprehensive and integrated, blending visual and semantic components to create value for customers.
For example, Levi's visual search not only picks up on the features of the jeans (like zip-fly or buttons), but can identify the cut (a product attribute that is important to their specific customers), and shows products that pair well with the jeans.
Fashion Visual Search and Occasion Filters
In the case of Levi's, a pair of jeans is the stimulus that a shopper is putting into the search to start discovering more products, but isn't the end-point. As we've seen in our own research, shoppers want to explore within broad thematic categories, such as "vacation" or "workout," which is why it's important to include mood or occasion filters in the visual discovery experience.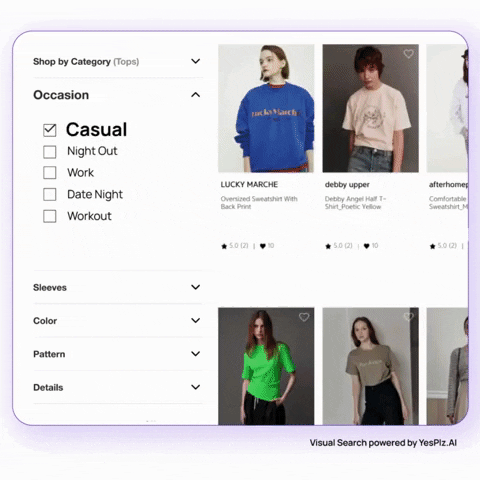 Oftentimes, the original product search is only a stimulus to get started exploring products, but isn't the main focal point of the search, depending on the context (AI can help determine search context). For example, if a customer searches for a sofa, she is probably interested in decorating an entire living room–so why not show her product recommendations that fit the style and context of her search, like a side-table?
Effective visual search in eCommerce creates an ongoing dialogue between the inventory and the shopper. The AI that powers the search can determine context, and show relevant, accurate product recommendations.
What's next for fashion eCommerce that want to implement visual search?
Conversations with retailers have shown that everyone understands that the current state of search is going to inevitably change. Ideally, eCommerce needs product managers that understand AI in fashion and know how to use new features for service planning. The learning curve exists for everyone in the industry, but the benefits are worthwhile: sales lift, more satisfied customers, and the opportunity to change the stagnant conversation about search.
This is the second part of YesPlz's Bite-Sized Visual Search Tips, a series where we break down the most pressing questions in visual search.