As the weather changes for fall, shoppers are looking to find new looks perfect for the dropping temperatures. But, they're hindered by outdated product discovery solutions that rely on text-matching keywords, leading to mismatched search results and difficult-to-navigate filters. Or, shoppers are stuck interacting with rules-based chatbots that can't understand their complex search prompts.
YesPlz AI product discovery uses AI technology to breathe life into tired, outdated solutions.
The YesPlz AI stylist and Virtual Mannequin Filter are the perfect tools for fall product discovery, empowering shoppers to find their perfect look in minutes, whether using easy-to-navigate filters or receiving ongoing chat styling with the AI stylist.
Innovative? ✅
Intuitive? ✅
Instant search results? ✅
A Brief Overview of YesPlz Product Discovery Solutions
YesPlz product discovery solutions were designed to reinvent the shopping experience for both retailers and shoppers.
The Virtual Mannequin Filter was built to empower shoppers to filter complex, multi-faceted product searches by clicking visual cues
The YesPlz AI Stylist can interpret any shopper prompt and deliver individualized, curated recommendations for any request.
And, smart product filters offer a fresh approach to traditional filtering, with advanced AI tagging to power advanced filters like occasion and vibe.
How can these product discovery tools help shoppers discover 5 looks for fall? We'll show you how.
Look 1: An Old Money Look Perfect for Fall with the YesPlz AI Stylist
Plaid blazers, neutral colors, and quiet luxury all come to mind when thinking about one of the latest trending looks, "old money style."
Retailers are struggling to keep up with the latest fashion trends because they lack the technology to understand shopper prompts, and deliver matching results.
Watch what happens when we ask the YesPlz GPT Stylist for old money looks:
Instant, relevant results using layers of ML to play the role of fashion stylist.
What if we word the prompt differently, asking about quiet luxury?
The AI Stylist can interpret any prompt, no matter how complex or trendy.
Look 2: A night out for a cool autumn evening
What about shoppers searching for a cute sweater dress for a night out? Something that has a going-out vibe, and isn't too casual?
Normally, shoppers would need to search for a dress, then filter by color and style, and manually attempt to find dresses that fit a night-out vibe.
But, with YesPz product filters, occasion filters have never been easier for shoppers to find, and for retailers to implement.
YesPlz occasion filters are powered by fashion-trained AI, that's trained on millions of data points and hundreds of user interviews, to understand the nuances of each occasion. Retailers simply plug into the YesPlz discovery ecosystem, and have instant access to occasion filters that shoppers love.
Look 3: A Back to school outfit
Keeping up with the latest fashion trends for the school year is an assignment in itself. But for shoppers that want to stay stylish, while exploring the latest trends, YesPlz AI Stylist can curate back-to-school looks that are individualized based on style and design preferences.
For example, let's ask AI Stylist for some cute fall outfits for university.
But wait…what if we want something more trendy? Just ask.
YesPlz AI Stylist also knows your preferences based on a quick fashion quiz, and can recommend back to school looks based on those parameters.
Is there something you don't like? Just tell the AI stylist, and magically, you'll receive more recommendations–it's like talking to a real stylist, combined with a personal assistant.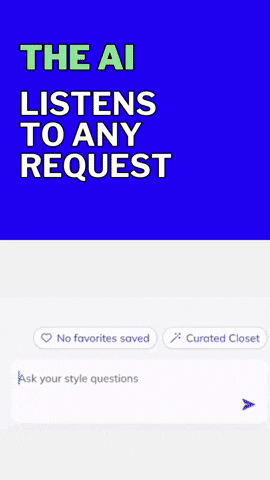 Look 4: A stylish leather jacket for the colder weather
Everyone has the perfect leather jacket in mind–maybe it's the way it fits around the waist, or maybe it's a flattering crop.
With YesPlz discovery products, you can get into the nitty gritty details of what you love and what you hate, and easily find multi-faceted products.
Let's find a leather jacket with the Virtual Mannequin Filter:
What if we want a collar style neck, with regular sleeves...and cropped?
What if we want to change the color?
One click and with visual cues, shoppers can immediately change the color.
Shoppers have a seamless navigation experience when adding or removing filter attributes, empowering them to build product searches they love, without any of the guesswork of fashion jargon.
Shoppers can also use the YesPlz AI stylist to find their perfect fall leather jacket. After seeing their curated outfits, shoppers can see similar recommendations based on weighted design attributes to keep inspiring their journey.
Note: YMAL is also available in the YesPlz discovery app ecosystem!
Look 5: Knee High Boots
If there's one crucial product to have in fall wardrobes, it's a fresh pair of knee-high boots. With kitten heels making a comeback, shoppers are looking to combine boot length with a specific heel type.
But, in order to start their search, what should they type in?
Knee-high boots? Long boots? Boots with kitten heels? Low heel boots? The search combinations are limitless, but it seems like search results are limited.
With the YesPlz Virtual Mannequin Filter, there's no need to guess which keywords will provide a search match.
Simply select your personal preferences for your boot on the virtual mannequin, and click to filter.
Behind the scenes, auto-product tagging for granular details (like kitten heels) is done, so filters are automatically integrated with product catalogs.
Product Discovery Doesn't Need to Be Tedious
YesPlz's Virtual Mannequin Filter and AI Stylist are transforming the way that shoppers discover products.
The Virtual Mannequin Filter provides an intuitive way to build complex searches without needing to know fashion terminology. With a 1.7x increased average cart size, it's a unique filtering experience that drives conversion for shoppers with intention.
The AI Stylist can deliver infinite personalized outfit recommendations tailored to individual tastes, at scale. No need for a team of human stylists to manually dig through deep product catalogs.
Both solutions are powered by YesPlz rich product tagging. With a granular level of product tagging for silhouette, design, and details like lace, any size business can plug into YesPlz's API and access product discovery tools.
YesPlz's AI-powered discovery products are helping retailers reinvent the product discovery journey to make it better for shoppers and retailers alike.