The AI revolution has arrived to fashion. In 2023, fashion retailers who want to drive higher engagement, increase sales, and optimize some of the hardest problems in eCommerce need to fully embrace the latest technologies.
From virtual try-on tools to advanced generative systems designing entirely new clothing collections, fashion AI has evolved far beyond early pattern recognition applications.
This ultimate guide dives into the latest fashion AI news for 2023, and offers a look at the most promising applications, as well as insider tips for retailers wondering how the fashion AI revolution will affect their most pressing problems.
In this article, we'll go over:
The evolution of AI in fashion technologies
How fashion AI drives value across business functions
Examples of how AI is transforming eCommerce discovery
Retailer strategies to implement AI
6 key fashion AI startups to watch
The latest updates on fashion AI discovery tools
Our thoughts on the future of fashion AI
The Evolution of Fashion AI Technologies
As fashion AI technology has evolved, we've seen major leaps forward in the capabilities of computer vision, natural language processing (NLP) and generative AI–all of which are transforming fashion retail.
We'll break down these technologies for you:
1. Computer vision uses algorithms to understand and analyze visual data in images.
Examples:
3DLook's mobile body scanning can detect measurements and create 3D virtual try-on experiences.
YesPlz AI uses computer vision to automatically tag product images, and extract key attributes and details in seconds.
In-store computer vision from Perch tracks customer behavior and items picked up to better tailor promotions.
2. NLP allows AI to understand and interpret human language better.
Examples:
YesPlz GPT AI Stylist can understand natural customer prompts and questions, then respond with personalized and relevant suggestions. This creates conversational commerce experiences that connect shoppers with retailer products they love.
NLP can also be used to improve semantic search, improving traditional text search results for complex terms.
3. Generative AI in fashion can create an infinite amount of new content and designs.
Examples:
In fashion, AI can autonomously generate clothing designs, fabric patterns, and 3D garment visuals based on parameters, as shown by companies like The Fabricant.
Generative AI is also being used to create hyper-realistic AI influencers and virtual models for social media campaigns.
The Next Evolution of Fashion AI Is Already Here:
The next evolution of fashion AI is already emerging: unified platforms that combine computer vision, NLP, and generative AI to deliver end-to-end personalization.
An AI stylist can learn a shopper's unique style and preferences, then leverage generative AI to instantly create tailored product recommendations and outfits.
This is the future of immersive, conversational eCommerce, and it's happening now with the YesPlz GPT AI Stylist.
The rapid evolution of fashion AI is showing no signs of slowing down.
AI Drives Value Across Business Functions, From CX to Supply Chain
While the internet is buzzing about consumer-facing AI like ChatGPT,fashion AI also offers tangible value across key retail business functions, from customer experience (CX) to supply chain.
Here's how fashion AI can drive value across different business functions:
Marketing & CX:
Fashion retailers can leverage AI to serve hyper-personalized and relevant ads, product recommendations, and individually tailored content–not only enhancing customer satisfaction, but also providing rich customer data to inform personalization.
Merchandising:
AI enables retailers to optimize product assortment based on predicted demand, reducing overstock risks. By analyzing past sales data, browsing behavior, and market trends, fashion AI provides merchandising teams with actionable insights.
Design and Productivity:
AI can automate repetitive tasks, making it easier for fashion companies to rapidly prototype new designs and create new products. From a generative point of view, AI can help generate new ideas to assist in the creative process.
Supply Chain:
Fashion AI can find inefficiencies in supply chain workflows by using data analytics. It also reduces lead times with improved demand forecasting and optimize inventory levels.
Fashion AI is becoming a must-have technology for fashion companies that want to remain competitive.
Fashion AI Is Transforming Ecommerce Product Discovery
AI is transforming eCommerce product discovery by solving age-old problems for retailers.
The problem: customers struggle to find relevant products in deep product catalogs, while retailers struggle to keep up with complex and changing fashion taxonomy, resulting in poor eCommerce discovery accuracy and overall experience.
Fashion AI solves these problems in several ways:
Smart product tagging leverages computer vision and NLP to automatically tag product attributes and details far faster and more accurately than manual tagging. This improves search relevancy, and sets the foundation for retailers to implement more advanced product discovery tools.
AI stylists can instantly generate personalized outfit ideas based on the customer's taste profile. They continuously improve recommendations using feedback data.
Immersive digital apps allow retailers to creatively showcase products through interactive storytelling and exploration. Customers engage with products in new ways while still enabling seamless click-through purchase.
AI is the key to solving the most pressing problems in fashion eCommerce, like poor product discovery and recommendations.
Retailer Strategies for Fashion AI
Here are some quick strategies to think about when using fashion AI:
Implement smart product tagging with AI to extract detailed product attribute data from product images and descriptions. Having rich, accurate product data enables better search relevancy and customized product recommendations.
Design immersive, well-branded product discovery tools and widgets to assist shoppers in finding relevant items in an engaging way.
Enable AI-powered occasion-based filtering aligned to how customers search, like "workwear" or "night-out". This allows customers to instantly narrow products by their needs.
Enhance text search with AI trending keywords, search term suggestions, and product image previews.
An AI stylist can explore full retailer product catalogs to instantly generate personalized, complete outfit ideas for each shopper.
The best part? YesPlz AI specializes in all of these strategies. Schedule a free, 20-minute consultation to learn more.
Schedule a free 20-minute consultation
6 Key Fashion AI Startups to Watch
These are the YesPlz picks for the top fashion AI startups to watch for 2023:
3DLook: 3DLook uses mobile body scanning technology for virtual try-on and personalized fit recommendations to solve sizing issues in eCommerce.
Sidus Studios X: Creators of Rozy, a hyper realistic virtual influencer created by fashion AI who attracted many followers who didn't realize she was AI
Perch: Using computer vision for retail, they blend physical and digital retail with computer vision that triggers related videos when shoppers touch products.
Cala: Cala offers an end-to-end fashion design platform that seamlessly integrates the entire design workflow, from initial product ideation to fulfillment, using AI.
Refiberd: Refiberd is developing an AI and robotics-based textile recycling system that sorts and recycles unsorted, discarded textiles into new ones.
YesPlz AI: We're always getting creative with AI to create not just one tool, but integrated, end to end personalization experiences that use combined AI
2023 is an exciting time for fashion AI, as every aspect of the fashion industry, from ideation to production to discovery, is being disrupted for the better.
The Latest Updates on Fashion AI Discovery Tools for 2023
Having a hard time keeping up with the latest fashion AI news? We have you covered:
Your TL;DR Fashion AI News for 2023:
Leveraging generative AI, Google has entered the virtual try-on space, generating models of diverse sizes and backgrounds to allow US shoppers to visually test out products from brands like Everlane and Anthropologie.
Snapchat's "Dreams" feature empowers users to generate images of themselves in any imaginable location or scenario.
Brands like MSCHF are developing immersive, digital apps with creative and thoughtful designs to notify shoppers about the latest viral product releases.
Companies such as Stitchfix are utilizing AI throughout their business models to better understand shoppers' tastes and serve personalized recommendations in an inventive way- even employing NLP to generate tailored product descriptions.
GPT AI Stylist is building a personalization experience where shoppers can ask AI any prompt and receive instant, curated styling suggestions that improve with each interaction.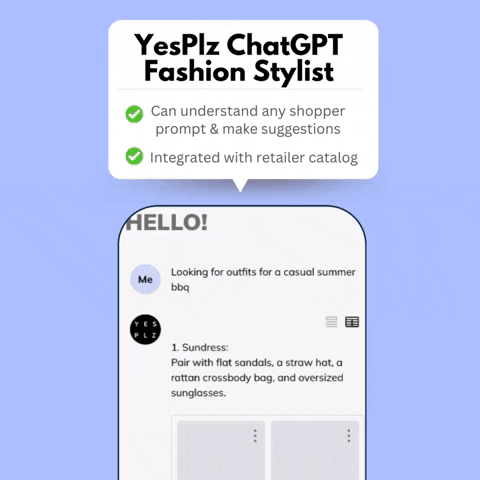 The YesPlz Virtual Mannequin Filter provides an intuitive alternative to traditional search filters, enabling users to visually find products through an engaging virtual mannequin experience.
The Future of Fashion AI
AI adoption among retailers is quickly growing, as the technology continues to get faster and better. With the potential to solve many of the most pressing problems in fashion, AI is becoming an indispensable asset to retailers looking to stay ahead of the game.
From AI stylists to hyper-personalized recommendations to fashion design: these are just the beginning of the potential of an AI-powered future of retail.