From Lacoste to Farfetch, fashion AI in 2022 has never been thriving more. With an estimated market size of $4.4 billion by 2027, it's hard for even the smallest of retailers to ignore.
And, the adoption of fashion AI by retailers of all types and sizes in 2022 comes with a good reason: the list of benefits continues to grow.
AI in fashion targets the most endemic of problems in the industry–customer engagement–and offers a creative solution.
By showing shoppers new ways to engage with search, technology to get the right fit, computer vision enabled in-store search, and even designing digital influencers with ever-changing outfit abilities, startups are answering the resounding question bogging down the retail industry: how to keep customers interested in an ever-growing sea of eCommerce options?
These are the top fashion AI startups revolutionizing the industry–and the impact they're having in 2022.
Did we miss a fashion AI startup? Let us know on LinkedIn. We want to hear your thoughts!


3D fitting is solving one of the biggest objections to eCommerce purchases: sizing
Finding the right size for clothing is exhausting enough when shopping in-store. Combined with different sizing at every clothing company–and it's a recipe for disaster. One of the most common objections when purchasing online relates to fit: shoppers don't want to commit to purchases when sizing is elusive.
Enter fashion AI. By using a combination of augmented reality and computer vision to create realistic overlays, shoppers can have the experience of an in-store fitting room online. Virtual fitting room startups are also using fashion AI to make accurate size recommendations and to personalize the shopping experience.
Effect on shopper engagement: A new, helpful technology tool to guide shoppers in finding the right fit–plus solving one of the most common problems–is a recipe for increasing shopper engagement.
Startup Highlight: 3DLook


3DLook is a 3D fitting startup that uses mobile scanning technology to provide personalized fit and virtual try-on to shoppers. We think 3DLook is providing a unique solution to an age-old problem.
Creating new opportunities for brands with virtual influencers, with fashion AI
You may have caught wind of Lil Miquela, a virtual influencer, on Instagram–but more virtual influencers are popping up as computer generated image technology continues to improve.
Through a combination of 3D modeling technology and fashion AI, virtual influencers are becoming even more realistic than ever. While shoppers may have noticed that Lil Miquela's CGI-perfect skin was a little too flawless, the combination of 3D modeling, CGI, and deep fake technology is creating an even more realistic field of virtual influencers in 2022.
Effect on Shopper Engagement: With endless options for clothing and scandal-free, virtual influencers could become a fun way to keep shoppers engaged with clothing brands, without the work of managing influencer programs. And, outfit opportunities are endless and unique, bringing even more creativity into an influencer-fatigued space.
Startup Highlight: Sidus Studios X

Rozy, a South Korean virtual influencer is rising the ranks of fame with shockingly realistic images created by fashion AI. Rozy was created by "combining the looks most loved by millennials with 800 facial expressions and movements from 3D modeling technology." In fact, Rozy was so realistic that in her first few months on Instagram, users didn't notice that she wasn't real.
We're curious to see more about what Sidus Studios X will create in the years to come.
AI in fashion is crafting an entirely new way to search for clothes
Let's face the facts: text search is old news. And while camera search was the latest and best technology that fashion AI had to offer, there are new technologies on the table–technologies that are even more powerful and more engaging than camera search.
The fashion AI that powers both text and visual search is continuing to evolve, as startups relentlessly solve eCommerce's biggest problems: lack of search engagement, low accuracy in results, and over-burdened internal processes that lead to poor user experiences.
The Style Filter, by YesPlz AI, guides shoppers to find their favorite fits and silhouettes, while using a virtual mannequin to search. Behind the scenes, powerful fashion AI tags new product attributes in lightning-fast time, resulting in an innovative, unique way to search. Customers can search for clothes in a way that mirrors the intuition that comes with shopping in-store.
Effect on Shopper Engagement: The Style Filter engages shoppers from the beginning of the search journey, leading to more conversions and more time spent on page. Customers can search for their preferred styles in a way that mirrors the intuition that comes with in-store shopping.
Personalized product discovery is the future of search–and it requires retailers to go beyond "traditional product filters"--and start thinking creatively and visually about the customer search journey. Based on user feedback, shoppers report higher ease of use, excitement about the ability to customize their search, and prefer the Style Filter to a traditional filter.
Startup Highlight: YesPlz AI
YesPlz AI uses fashion-trained AI to create visual discovery and product recommendations that are fashion-forward and always accurate. When traditional search filters and recommendations fall short, YesPlz AI is stepping up to transform eCommerce like never before. By blending visual search and artificial intelligence, YesPlz AI is changing the conversation about fashion AI and search to be visual and customer-focused.
Contact YesPlz to learn more about the future of visual search
The physical and digital worlds are blended using computer vision in retail stores
Computer vision isn't only limited to eCommerce–fashion AI startups are using computer vision to track what items shoppers physically pick up when shopping in-store–and creating display ads/promotions based on their behavior. If this sounds like a distant future technology–it's already happening in 2022.
When customers pick up products in-store, there's valuable demographic and segment information to determine relevant promotion strategy–aka a marketer's dream. Of course, there is a question about what kind of data should be derived from shoppers in-store using technology.
Effect on Shopper Engagement: When shoppers see relevant ads and promotions, conversions skyrocket. The future of retail in physical stores will require keeping shoppers engaged with a curated experience–and computer vision-powered promotions could be an interesting step forward in creating a hybrid of technology with fashion AI, and combining with promotions in physical stores.
Startup Highlight: Perch Interactive
Perch Interactive is a startup in fashion AI that is changing the way we shop in-stores with computer vision. Perch recently launched a partnership with Unilever to launch interactive retail displays in grocery stores, with technology that can sense which products shoppers touch–and in response, a digital screen responds with videos about the product.
Conversational AI that can sell, guide, and help customers when they need it most
Another area of fashion AI, conversational AI, is making waves in eCommerce by offering a way to help customers. Conversational AI allows customers to interact with advanced chatbots with the same ease as a store associate, with even faster, accurate responses that mirror human language.
An added benefit: around-the-clock support that doesn't rely on customer service employee schedules. Conversational AI can keep the chat going, even during weekends or late hours, saving retailers valuable time and energy.
Effect on Shopper Engagement: Shoppers want to feel that their online shopping experience is similar to in-store, from search to support. Chat messaging–especially for bureaucratic conversations like returns–also frees up time for customer support employees to respond to higher need shoppers, resulting in better rates of satisfaction all around.
Startup Highlight: Heyday AI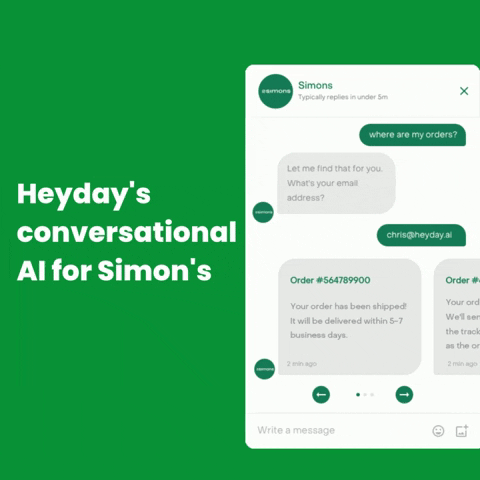 Heyday AI is a conversational AI startup that caught our attention for both the diversity of its offerings (guided support, FAQ automation, and order tracking) and the brands in eCommerce using Heyday–such as Lacoste and Simons.
What's the future of AI in fashion?
While no one has a crystal ball to predict the future of tech in fashion, we would also keep an eye on these developing areas:
Other areas of growing technology: From the metaverse to NFTs, brands are experimenting with new ways to engage customers. This means we could see more experimentation with high-tech fashion AI tools as well, as brands continue to understand the importance of winning customers over online.
Faster, more advanced technology: As the fashion tech industry continues to evolve, technology is also evolving to create more advanced AI algorithms. This could result in even higher adoption rates of fashion AI tools, as eCommerce brands embrace fashion AI as a way to engage customers.
AI in fashion and customer engagement go hand-in: from 3D fitting technology to conversational AI to visual search, the use cases continue to grow. Stay tuned as we continue to share more about the latest trends in fashion tech.