Why is search and recommendation so important for digital wholesalers?
The answer: Strong search and recommendation creates more value for merchants browsing your site.
Or, as Jordan Knapp (Head of New Markets at Shopify) said:
"You can no longer afford to have just a transactional site with lots of products. You've got to really become a destination for your merchants."
Creating a destination means: personalized search, accurate recommendations, and smart tools that can create bundles of curated products. In short, making your digital wholesale website into a destination means a one-stop shop for your merchants, leading to more purchases and more time spent on your website.
And, now is the time to adopt new tools for your digital wholesale business.
In the context of the pandemic, merchants went online to make purchases, leading to an increase in demand from buyers. Meeting that demand requires building a robust, easy-to-use digital wholesale platform.
At YesPlz AI, we build tools for digital wholesalers to streamline the search and recommendation process, making your digital wholesale website a destination for merchants.
In this guide, we'll go over each of our tools and how they can benefit digital wholesalers.
Contact us today to schedule a free consultation
The Basic Foundation Behind Digital Wholesale Technology
Our digital wholesale technology is based on two key principles:
1. We learned the why behind shopper behavior and decision-making process.
2. Every shopper prefers a specific silhouette.
Based on these two principles, we developed and trained artificial intelligence to recognize and find matching products based on shopper preferences. By learning the thought-process behind the search and discovery process, we can pre-train our digital wholesale technology to understand the psychology behind search.
And, by understanding all of the possible silhouettes that shoppers prefer, we can define the entire range of possible silhouettes. Our artificial intelligence can recognize patterns and suggest matching products that fit a shopper's search preferences.
Based on this foundation, we've built all different types of digital wholesale technology that help fashion websites with every part of the purchase process, from search, recommendations, personalization, and business intelligence.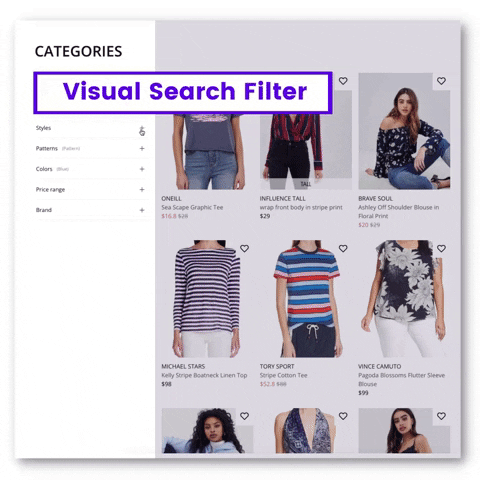 The Style Filter
It's a well-known fact that search is hard. How many times have shoppers typed in a keyword, only to find a message reading "no results found?"
Shoppers have no idea which keywords to type in, because every website is different.
And retailers struggle to keep product information up-to-date and accurate, based on the thousands of ways to describe a product.
The only way to make search easier for both retailers and shoppers is to change search from being text-based to visual.
Visual search gives shoppers a new way to communicate their search needs.
How the Style Filter Works:
Instead of typing the text-based keyword for an "off the shoulder top," shoppers can use visual search to demonstrate the style on a virtual mannequin. Then, artificial intelligence retrieves relevant search results based on the retailer's product catalogue.
Shoppers no longer need to know every keyword in order to get accurate search results, making search easy and efficient.
The Style Filter fanbase is growing, as users are excited for the Style Filter's intuitiveness and accuracy.
Complete the Look
When it comes to fashion, every shopper has their own style. But, when shoppers see a well-curated ensemble, it's easier for them to recognize and discover new products that they love.
While other "Complete the Look" tools ask customers to complete tedious surveys to determine their style or give inaccurate product matches, YesPlz AI's Complete the Look tool is accurate and trained in fashion.
How it works:
Our artificial intelligence learned basic styling rules, based on user interviews:
-Don't combine more than 3 colors
-Balance silhouettes from top to bottom
-Style categories together (workout clothing should be styled with workout clothing)
Then, based on the product category that our artificial intelligence recognizes (pants, shoes, earrings), these rules are applied.
Artificial intelligence is key to Complete the Look, because AI is constantly learning based on shopper preferences, and can curate highly personalized style suggestions.
Similar Products
Customers also want to see products that have similar attributes because they're interested in the range of similar styles available. For example, a customer browsing through blue, striped button-down shirts may want to see similar shirts based on the fit, pattern, or style.
The YesPlz Similar Product tool doesn't find the same products (because that would be frustrating for shoppers), but finds products that can match the key style elements.
When shoppers need to go back to the beginning of their search to re-type in keywords, they're working too hard--and are likely to give up on the search.
By bringing well-curated items to shoppers, you can make the shopping experience memorable (for good reasons).
Our Similar Product tool is unique because we trained the artificial intelligence to understand both images and texts. By quickly analyzing the matching attributes to a product and making recommendations, the shopping experience is transformed.
.
Merchandising doesn't need to be a guessing game
Merchandising can be easily curated and personalized using smart fashion artificial intelligence, like YesPlz AI. Our tools are built with an understanding of fashion and trained from millions of fashion data points across the world.
Customers visit their favorite retail websites multiple times per day and expect to see freshly curated items with each visit. Retailers can now automate the search, recommendation, and curation process with YesPlz AI.
And, most importantly, customers want to complete purchases when they perform a search. But, when the search process becomes too complex and overwhelming, they can't make purchases.
Make search easy for customers--don't make them work for their search results. Using a visual search filter is a powerful way to help customers visualize the styles they're looking for, and with our fashion artificial intelligence, customers can receive accurate results in milliseconds.
Your website should be a destination for shoppers, full of well-curated products and accurate search results.