Ecommerce product filters are crucial when helping shoppers quickly find the products they're looking for. When designed well, they can turn a mediocre shopping experience into a superior one.
But, how can retailers design product discovery that's effective, resourceful, and taps into the mindset of shoppers?
In this article, we'll look at:


FAQs on eCommerce search filters
Review research on shopper mindsets
Go over the 5 key elements of product filtering & search
Compare eCommerce product filter options from common service providers
Showcase how retailers can creatively implement sophisticated solutions without sacrificing time or money
Let's dive in.
FAQs on Ecommerce Search Filters
What are eCommerce product filters?
A product filter is a tool used on ecommerce websites to help customers find the exact products they are looking for. It allows customers to narrow down their search results by applying specific criteria, such as price, brand, color, size, etc. Product filters enable customers to quickly and easily find the product they are searching for.
What is the fashion product filter?
A fashion product filter is important to distinguish from an all-around eCommerce product filter because fashion filters focus more on silhouette, style, and fashion product attributes. When using third-party vendors to design eCommerce product filters, make sure that the provider has a specialty in fashion. A general filter provider may not use technology to keep up-to-date on the latest fashion trends, styles, and even jargon.
Why do shoppers care about eCommerce product filters?
They make the shopping experience more or less interactive–and when well-implemented, they can help put shoppers in control of their search. By saving time and energy from shoppers, good filters make shoppers' lives easier and online shopping more (or less) enjoyable.
What are eCommerce filter templates? Where can retailers find them?
Rather than building eCommerce product filters from scratch, templates offer pre-designed filters for retailers to quickly implement. YesPlz offers filter templates, which you can find here.
Is it difficult to create customized search?
When coupled with an AI-powered product tagging tool, it's easier than ever to create customized eCommerce filters. But, when there isn't an AI-tagging tool integrated into the product filters, it can be burdensome to create customized filters manually.
YesPlz Research on Shopper Behavior
We know from Baymard that shoppers value the 5 filters listed above. But, what about the order of them?
According to our research at YesPlz, users prefer to see sub-category, styles, occasion, size, and price. But, their preferred order will change based on search intent.
The good news is that as long as shoppers can easily see these options, they can quickly narrow them down on their own.
By building eCommerce search that is easy to find and easy to use, retailers empower shoppers to search the way that they want.
YesPlz filter recommendations
Sub product categories
The Virtual Mannequin Filter
Color
Brands (with search bar)
Thematic (ex: occasion, mood, or vibe)
Price
Size
Pattern (ex: solid, floral, animal, etc)
User Review
Shipping, Sustainability
Beyond the basic product filters, shoppers also prefer to see vibe, pattern, or material.
Finally, shoppers perform one last check to see reviews, ratings, shipping options, or sustainability–but these aren't necessarily the most important, according to our research.
Are you looking for the perfect filters for your shoppers? Contact YesPlz to set up a demo based on your specific needs.
The 5 Key Elements of eCommerce Product Filters
Based on the research above, we can determine that there are 5 key elements to designing successful eCommerce product filters:
1-Understand shopper behavior patterns and preferences to build the filters they want to see
Without an understanding of what your shoppers want, it's impossible to build the filters that they enjoy using. By looking at shopper data, you can get valuable insights to build more optimized filters.
2-Use visual cues to guide shoppers (color chips, visual references like silhouette) and to avoid complicated filtering language
Even the best-designed filters can fall short when they contain difficult to understand fashion jargon. To avoid getting caught up in long-winded text filters, consider using visual cues as part of product filters to keep shoppers moving along their journey.
3-Seamless navigation process
Whether that means faceted filters or filters optimized for mobile, the navigation process should be as seamless as possible–i.e shoppers should be able to get from Point A to Point B in the least amount of clicks possible.
4-Mobile filters that make sense for smaller screens
With over 50% of eCommerce traffic accounted for by mobile shoppers, it's time to stop thinking of mobile design as an after-thought, or something to retro-fit from an original web-design. Poor mobile filters reflect poorly on eCommerce brands, and diminish the shopping experience.
5-Know which filters to offer
While you can offer as many filters as possible, that doesn't mean you should. Be strategic in which specific themes or occasions shoppers use to filter by. This is particularly important on mobile, where it's impossible to show every filter without overwhelming users.
What keeps retailers from implementing eCommerce product filters?
57%. That's the number of retailers that don't offer Baymard's 5 essential product filters.
Why?
Are retailers unaware of the importance or price and size filters? Or, are those filters too complex for busy retailers to manually configure?
Customized filters sound great in theory to many retailers, but become burdensome to integrate from scratch because of the sheer number of hours required to create them–and keep up-to-date with them.
It takes hundreds of hours to manually integrate filters because of poor product tagging.
Each product filter is built from the product attributes of a piece of clothing. But, when retailers are stuck tagging those attributes by hand, the time spent is simply too much to keep up with–and makes it difficult to quickly add a trending or seasonal filter.
Manual product tagging limits the customizability of filters.
With automated, AI-powered product tagging, we can use fashion-trained AI to scan images and quickly tag product attributes in seconds. This creates the building blocks for customizing filters without creating more work for retailers.
How YesPlz Is Designing Better Fashion Filters
YesPlz search filters are the best choice because they're high-performing, built for fashion, and make life easier for both shoppers and retailers.
Specifically, YesPlz designed based on:
Innovative usability: With built-in visual cues, visual navigation like the virtual mannequin filter, and UI optimized for shopping for fashion, YesPlz product filters are not only easy to use, but innovative in how to create a search journey that's easier to navigate.
AI built for accuracy: Since we know the attributes that shoppers care about when it comes to fashion, we can train our AI to automatically train those attributes–and then rank search results more accurately. The end result: search results that are always accurate, no matter what the product attributes.
Effortless customization: Whether you're looking for specially customized filters or a modern, scalable template design, we've got you covered. We can easily integrate any customized fields into fashion filters, with no need for manual tagging.
YesPlz Fashion eCommerce Search Filter Features:
Virtual Mannequin
The virtual mannequin filter (patent-pending) is the world's first visual fashion filter. Guided by an easy-to-navigate virtual mannequin on the front-end, users visually filter their preferred product attributes like fit and silhouette. Then, fashion AI pulls accurate results within seconds.
Thematic/Vibe
Our research shows that many shoppers begin their search with a theme in mind. But, thematic filters are subjective–two different humans would define "vintage" or "romantic" themes differently.
YesPlz solved subjectivity by using crowd training and user interviews to validate the meaning of thematic filters. Then, we trained fashion AI to understand the vibe from product images.
Style Attributes
Silhouette, neckline, length, and color are all attributes that shoppers value. YesPlz product filters not only offer these as templates, but also make it easy to customize the filters that your shoppers specifically prefer.
Sorting and Faceted
With both sorting and faceted filters, retailers can build advanced filtering methods that let shoppers control their preferences.
Auto Product Tagging
AI-powered product tagging makes designing product filters seamless for retailers. No more manually tagging and configuring the filters. Instead, AI that's trained to recognize product attributes automatically creates accurate tags, which can then be used to customize filters however retailers would like.
YesPlz Product Filters vs. Competitors
How do YesPlz product filters stack up when compared to others? YesPlz is designed with the customer in mind, and includes additional features like the virtual mannequin, silhouette & thematic filters, and is integrated with AI product tagging.
YesPlz is powered by AI product tagging, so we can offer thematic and silhouette filters directly.
Other companies require retailers to tag product information, map it to filter templates, and configure thematic filters on their own, leading to inaccurate and inconsistent search results.
Let's take a look at YesPlz vs. two of the biggest product filter providers:
Ecommerce Product Filter Providers Comparison Table
Case Study of Placement of Ecommerce Search Filters
We're going to examine the placement of eCommerce search filters for W Concept, one of the world's leading luxury retailers. W Concept is a leader in fashion and its shoppers are highly sophisticated and stylish, searching based on brand, silhouette, and other specific criteria.
How could W Concept keep up with its growing product catalog while offering a robust filtering experience that appealed to every type of shopper?
YesPlz designed 4 specific filter types to appeal to shoppers based on shopper type, seasonality, and product attributes.
10 Quick Ideas to Improve eCommerce Product Filters
Optimized product filters lead to more satisfied shoppers, more conversions, and more repeat shoppers. But, are you still looking for more ideas on how to improve filters?
Save this list for later use:
1-Use automated AI tagging to easily stay on top of new products
2- Offer the latest trends, seasonal, or thematic filters
3- Truncate filter lists when they're too long
4- Faceted filtering is facilitated filtering
5- Steer clear of fashion jargon that shoppers won't understand. Update filters to use the easiest, most universally understandable language
6- Include the 5 most important filter types- price, user reviews, size, color, and brand
7- Hide filter options (or gray out) when there's zero search results
8- Order filters by importance to your shoppers
9- Include key style attributes in filter options like silhouette
10- Pay close attention to size and price filters, and how they're set up.
12 Filter Template Ideas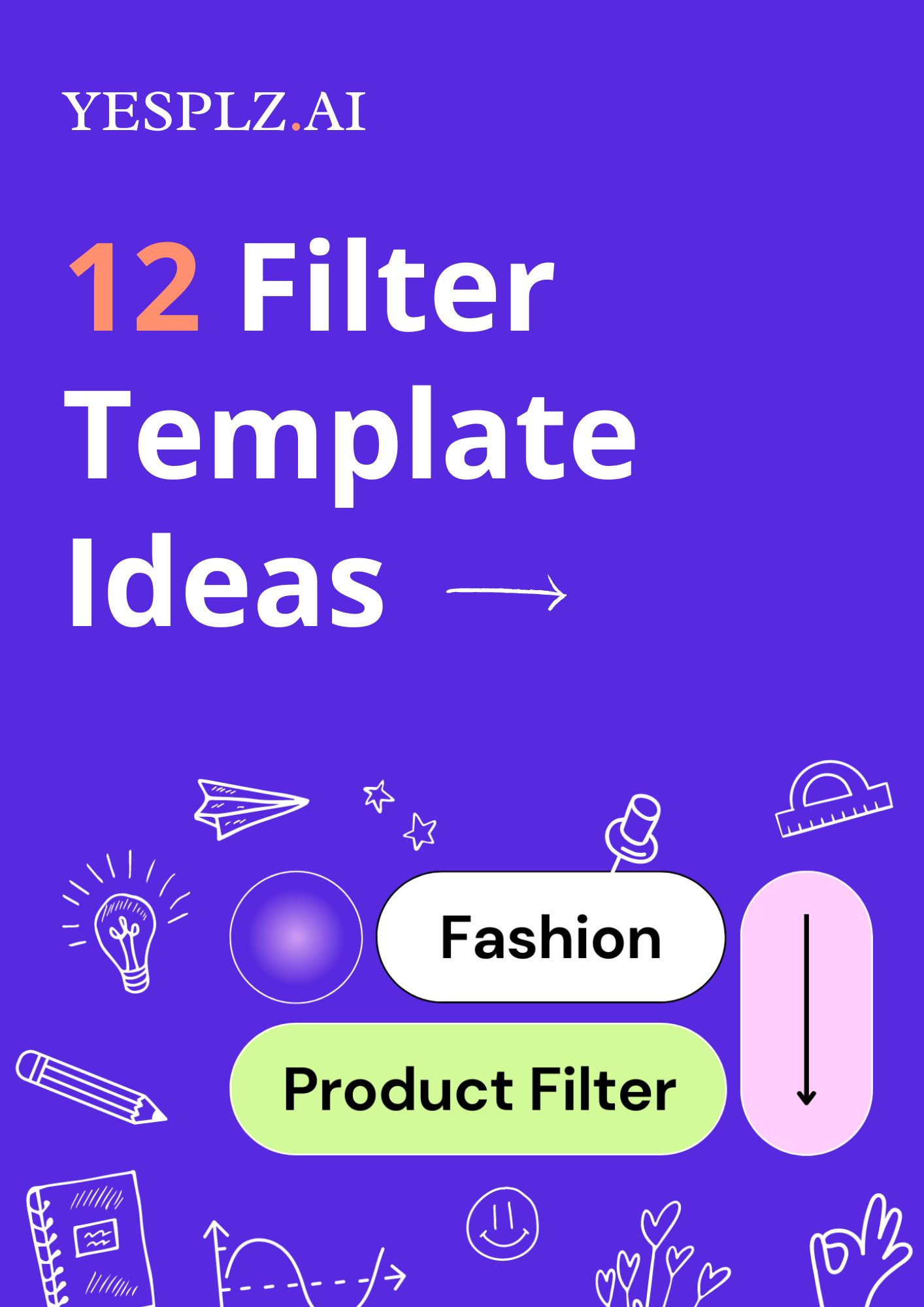 Search filter templates that include: visual search, horizontal/side, mobile, and different design aesthetics
Research on user search behavior
Valuable information about which search filter templates fit your fashion eCommerce's needs
Tips to seamlessly implement thematic search filters
GET THE GUIDE
All-in-one product discovery for fashion brands
And, the best way to improve the quality of product filters?
Implement an all-in-one product discovery tool built specifically for fashion brands.
YesPlz all-in-one product discovery includes customizable product filters, visual navigation, product recommendations, enhanced text search, and automated product tagging.
Tag products one time, and access an array of product discovery apps for your website.