Ecommerce search filters impact not only how your customers find products, but the overall user experience. Despite the thousands of search solutions available, only 16% of eCommerce websites provide a "positive" filtering experience.
How can the majority of fashion eCommerce companies improve the fashion search experience? We created the answer in YesPlz's Product Filter Evaluation Checklist–a guide for fashion eCommerce when evaluating their own product filtering.
Today, we're going to apply the product filter checklist to two filters: Urban Outfitters (UO) and In the Style, and based on YesPlz criteria, determine which filter is stronger.
Product Filter Evaluation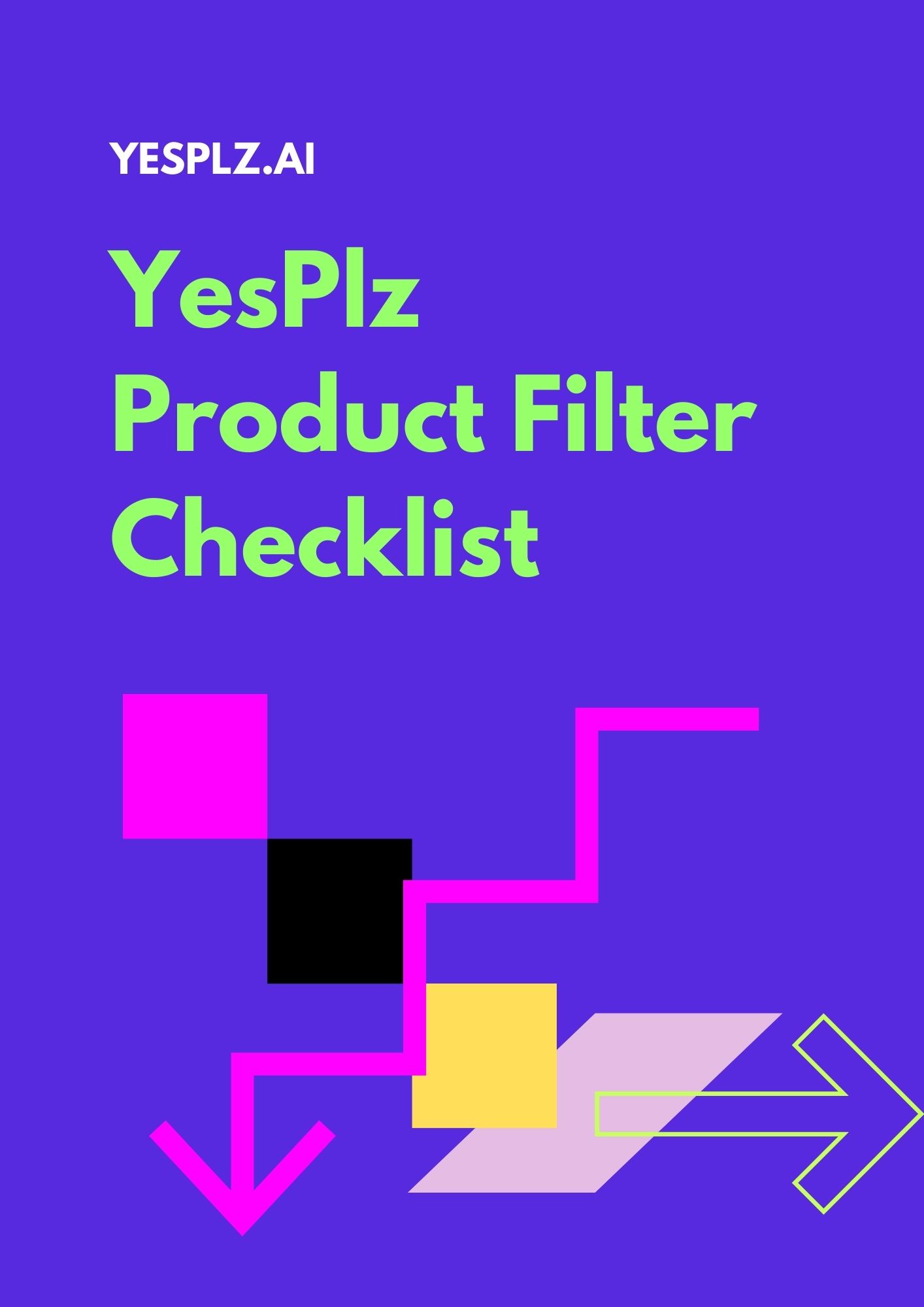 An easy-to-use checklist for evaluating your product filters
Detailed explanation of the product filter tips
Refer back to the checklist when adding new product filters
GET THE GUIDE
YesPlz Best Practices for eCommerce Search Filters
Based on our own research and user research from The Good, we've determined the following criteria for product filter & search:
1. Keep filter language jargon-free
The subtle differences in fashion language can cause users to become confused, overwhelmed, and simply miss out on your products because of a lack of understanding.
Ideally, you should look to your customers for cues on language to describe products–if your customers aren't using the term "cap sleeves" to describe a sleeve type, then you shouldn't either.
Using consistent, easy-to-understand language in eCommerce search filters helps guide users to the products they're looking for while continuing to discover your product catalog.
2. Include thematic filters to keep users engaged
Our research shows that users have an "open search mindset"--they want to search within broader categories, but still have a checklist in mind for fit and silhouette.
For example, "statement dresses for work that hide my arms" is how users actually think about search–but users are limited by burdensome, unhelpful product filter & search. By offering thematic filters, users can quickly navigate to the occasion they want, and continue to explore.
Unfortunately, manually creating thematic filters can cause inaccurate search results and waste hours of time, due to human error and subjectivity. Even the most sophisticated fashion experts may define a "work dress" differently from each other.
Fortunately, fashion AI can learn to correctly tag based on theme, removing human error.
3. Include key product specifications in eCommerce search filters
Even the most open-minded shopper wants to filter by specific product specifications like price and size.
Product type and material are the second most asked-about specifications. And finally, an ideal product filter & search solution will also include product filtering by style, such as neckline, sleeve length, and silhouette.
Product specifications should be organized in a way that makes sense to the browsing experience (and not include long lists of text filters).
4. Make navigation easy and seamless
Product specification-rich filters will be meaningless unless users can easily make changes like adding or removing them. An ideal eCommerce search filter navigation experience will include:
Truncated design
Easy to add and remove filters
No zero-search results (hide the filters that don't return search results)
Strategically-ordered filter categories
5. Advanced search interface such as unique filters for mobile
Users are more sophisticated now than ever, and the standard for product filter and search has risen in the past 2 years. Users expect to have a superior mobile search experience, optimized specifically for small screens. And, shoppers are unwilling to read heavy text filters on mobile–meaning that visual cues are becoming more common to guide users.
Faceted product filtering is also becoming more common, allowing users to filter based on multiple selections (for example, color and sleeve type). This requires more advanced data management on the part of the retailer, as certain product specifications will be excluded depending on the search results. However, faceted product filtering is a more seamless way for users to search for clothing.
Schedule a free 20-minute consultation
Battle of eCommerce Search Filters: UO vs In the Style
Based on the above criteria, we're comparing the product filter & search at Urban Outfitters and In the Style, two retailers with large product catalogs.
We'll rate each retailer for each of the 5 YesPlz eCommerce search filter checklist items, with a maximum score of 5 out of 5.
Battle #1- No Fashion Jargon
Winner: It's a tie!
Urban Outfitters: 👠👠👠 (3/5)
In the Style: 👠👠👠 (3/5)
Urban Outfitters' language is (mainly) easy for shoppers to understand, with universal terms like "halter" and "square neck" to describe necklines.
In the Style, on the other hand, didn't include the naming of style product attributes. Even when product specifications like size are named, they're difficult to understand. The naming conventions for size at In the Style are inconsistent, bouncing from numbers to years, making it difficult to understand what the product specifications are referring to.
However, In the Style explains each type of filter selection (like "Bardot Dresses") with a text explanation, which we think adds value for the user.
Room for Improvement:
There is language that could be improved in Urban Outfitter product filtering, such as "mock neck." Other language on the website included terms that could be difficult to decipher, like "babydoll" tops. Alternatively, we like that Urban Outfitters is actively thinking about fashion jargon–by placing "mock neck" in the same category as "turtleneck," the user can infer that a "mockneck" is similar to a "turtleneck."
In the Style chose to explain eCommerce search filter terms using sentences, which becomes very text-heavy for users that are browsing and looking for a visual experience.
Battle #2: Include thematic filters
Winner: In the Style
Urban Outfitters: 👠👠 (2/5)
In the Style: 👠👠👠 (3.5/5)
Urban Outfitters chose to curate their thematic filters to include "festival outfits" and "sun shop"--but we'd love to see more thematic filters that fit the mood and vibe. Users can also find thematic filters under each product category (for example, choosing a "casual" or "going out dress" after selecting "dresses"). Oveall, there simply weren't enough thematic filters offered–and the filter categories were subjective with inaccurate search results.
In the Style offers thematic filters as well, ranging from "graduation dresses" to "occasion dresses." Although the categories were sometimes difficult to decipher, there was a richer offering than Urban Outfitters–for example, we saw "Wedding Guest Dresses" included alongside "Daytime Dresses"; "Summer Dresses"; and "Graduation Dresses"--all very unique and relevant occasion/themes.
Room for Improvement:
Simply offering thematic eCommerce search filters isn't enough.
One of the biggest problems with thematic filters is inaccurate search results, often stemming from problems with fashion tagging. Shoppers not only expect to see thematic filters, but accurate search results under their selections. This becomes more difficult to achieve in thematic filters, because of the subjectivity of humans when tagging manually.
Urban Outfitters chose to curate their thematic filters to include "festival outfits" and "sun shop"--but we'd love to see more thematic filters that fit the mood and vibe. Users can also find thematic filters under each product category (for example, choosing a "casual" or "going out dress" after selecting "dresses"). Overall, there simply weren't enough thematic filters offered–and the filter categories were subjective with inaccurate search results.
After selecting "party" dresses at both retailers, we were met with mixed results, ranging from patterned orange to floral dresses. Urban Outfitters search results also showed pants, clearly in the wrong product category.
Perhaps it is our own bias, but we would expect to see a mix of sequins and black dresses under "party and going out dresses."
Eliminating subjectivity in thematic filters is key–and fashion AI plays an important role in creating accurate, consistent occasion filters.
Contact us to learn more about thematic filters powered by AI
Battle #3: Show key product specifications in filters.
Winner: Urban Outfitters
Urban Outfitters: 👠👠👠 (3/5)
In the Style: 👠 (1/5)
Key product specifications like price, size, color, pattern, and material should be included in filters, as well as style attributes like neckline, sleeve type, and fit. Urban Outfitters does a good, if not inconsistent job, of providing this information–users can easily filter by neckline or sleeve type.
In the Style, however, does not include filters for style attributes, making the search experience frustrating for users with specific style preferences.
Room for Improvement:
While we love that Urban Outfitters is starting to include material, not all of the products are being captured by the eCommerce search filters (likely a problem due to fashion tagging). For example, there are 540 dresses listed, but only 37 materials tagged. This means that shoppers are missing out on products.
Battle #4: Easy-to-navigate product filters
Winner: Urban Outfitters
Urban Outfitters: 👠👠👠👠(4/5)
In the Style: 👠👠 (2.5 /5)
We found Urban Outfitters filters to check all of the boxes: truncated filters, easy to add and remove filters, and filters like price and size that were strategically located at the top.
On the other hand, In the Style filters had categories with only one selection, and seemed to be a long list of attributes without thinking about usability. In the Style filters were straightforward and showed the number of matching products for each search parameter, which is helpful for users. However, we wish that the filters included color chips and labels to make them more readable and easier to navigate.
Poorly planned information hierarchy leads to dead-end searches, and frustrated shoppers, making the overall experience overwhelming.
We also recommend never showing users a zero-search results page. Users are likely to bounce after seeing the message below:
Room for Improvement:
We also recommend skipping broad curation categories like "new arrivals" as they're not impactful, especially for retailers with thousands of products. We'd also like to see less text, and more visual cues from both retailers.
Battle #5: Advanced Product Filtering Options
Winner: Urban Outfitters
Urban Outfitters: 👠👠👠 (3/5)
In the Style: 👠👠 (2/5)
Faceted Filters: When searching for a "blue, long-sleeve dress," a user isn't looking for either a blue dress or a long-sleeve dress; she wants to see the combination of the two. Through faceted filters, users can quickly navigate through product specifications to create their ideal combinations. However, retailers should beware of leading users to dead-ends as they continue to filter.
Urban Outfitters has strong faceted filters, allowing users to seamlessly shop their preferences. In the Style, on the other hand, does not offer faceted filters, which does not mirror the way that users naturally search. In the Style includes basic filtering options with limited advanced options in top navigation–and while their filters "get the job done," they could be more advanced.
Mobile UX: We liked that Urban Outffiter's mobile filters allowed us to select and unselect items, and were generally easy to navigate. However, we would prefer that mobile filters don't take up the full screen, because that requires users to toggle back and forth between selections, making it more likely that they'll bounce.
In Urban Outfitters, users have a horizontal filter option to select "product category," but all of the other filter categories require users to click to a vertical filter.
In the Style has all filter options in a vertical filter that takes up the entire page, and is difficult to navigate because it isn't truncated. It seemed like the experience was not especially designed for mobile.
Room for Improvement:
On smaller screens, space is key–and taking up too much space with text can lead users to miss important information. By incorporating visual cues, which naturally align with the mobile experience, retailers can play on the strengths of mobile (capturing user attention in a highly visual platform) and keep users engaged.
The Final Scorecard:
How to Take eCommerce Search Filters to the Next Level
Bare minimum eCommerce search filter experiences aren't enough to keep shoppers satisfied. With limited thematic options and laundry-list style product attributes, traditional product filters are filled with obstacles for every type of shopper.
Fashion AI technology gives us the ability to re-imagine how shoppers engage with product filters and search. Rather than provide barebones, dated filters, fashion AI makes the search experience more intuitive–meaning more shoppers can purchase the products they want.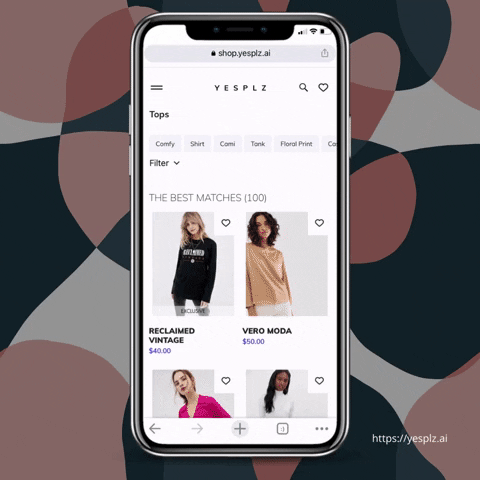 At YesPlz, we're re-inventing product filters by:
1. Expanding occasion filters to include mood and vibe
Our filters aren't only limited to the most basic thematic filters, we can go beyond basic filters to create mood and vibe tags like "statement" or "romantic."
2. Including visual-first interface in the product filtering and search experience
Traditional product filters rely heavily on text, expecting that shoppers will engage with long-winded descriptions. Shopping is, inherently, a visual experience. With YesPlz's Style Filter, shoppers can visually (and intuitively) search in a way that feels natural.
3. Offering automated, AI-powered fashion tagging to reduce inaccuracy
When shoppers see inaccurate search results, it's unlikely that they'll continue to trust the search experience, and may even bounce. And, inaccurate search results are inevitable when manually tagging hundreds of product attributes per product. By using AI image tagging, YesPlz can accurately tag products in seconds–and use that information to create consistent filters.
The eCommerce search filter experience can give your eCommerce the unique opportunity to stand out from competitors–and most importantly, stand out to shoppers. By using AI-powered filter and search solutions like YesPlz AI, shoppers will remember you as a positive product filtering experience.