Service planning is hard when you're trying to integrate technology with service offerings. What do you offer? How do you know whether you're planning too little or overplanning? And how do you even begin?


Fashion eCommerce stores know this dilemma all too well: you want to integrate new service offerings, and you know that there's a lot of technology out there to help: but where do you begin?
By taking the time to plan your service offerings, you're setting up your eCommerce for success.
Vertical Product Filter
What technology should you integrate?
Fashion artificial intelligence (AI) is artificial intelligence that understands the ins-and-outs of fashion. Fashion AI can understand fashion taxonomy, and even develop fashion taste that fits your customers. It can include search, recommendations, personalization–and can perform the same job as a helpful in-store sales associate.
The number of ways to implement fashion AI are dizzying–and many fashion eCommerce stores are concerned about the implementation process. But, once you start to break down the steps to create an action plan, it's not as overwhelming.
Why use fashion AI in your eCommerce?
Nearly every major retailer is using fashion AI in some form, from predictive analytics to search. Utilizing fashion AI will help your brand keep up with the competitive industry landscape, and stay ahead of competitors.
The benefits of fashion AI include:


Increased rates of customer satisfaction, resulting in higher rates of return
Easy-to-navigate search tools for customers, leading to more completed purchases
More accurate product recommendations, with higher basket sizes
Automatic product tagging of new SKUs, saving retailers precious time and energy
You can learn more about all of the benefits of fashion AI in our Complete Guide to Fashion AI.
The Steps to Creating a Service Plan
By following the below checklist, you can make sure that fashion AI planning and integration is seamless, and aligned with your eCommerce's goals.
If you'd like more in-depth advice on creating a service plan, contact us for a free 20-minute consultation where we can go into more details.
Schedule a free 20-minute consultation
Step 1: Define service scenario.
Forget all of the different types of technology, and the question of whether technology can help or not. First, define the service scenario. But, how? We recommend identifying either a pain point or an experience that has the potential to delight your customers. Perhaps you find that customers are struggling to complete their purchases after repeated search attempts. Or, customers simply aren't engaging with product recommendations. You've identified your pain point.
Alternatively, some eCommerce stores want to go above and beyond their competitors–by creating experiences that not only solve problems, but delight and bring joy to customers. In this case, you can brainstorm different scenarios.
Some examples could include:
-a style quiz
-a personal wardrobe
-daily style curation over email
The opportunities are sky-high for those eCommerce brands willing to look into the future.
Step 2: Make the logic in order to implement the service.
Unfortunately, there isn't a magic wand you can wave to translate the service into some form that your website can understand. But, there is good news: it's not as difficult as it seems.
Simply set a rule for your service. Let's say you're planning to integrate recommendations into a product page. You can set a rule to show recommendations from the most popular brands first. Or most-clicked products. Or visually similar products. You can set the rule yourself.
Tip: The more attribute data you have, the more services you can create. For example, you can use fashion AI to pull only "floral print" tops or "spring vibe" skirts that match the tops, and display the collection under the spring banner "Our spring collection." Fashion AI makes this easy.
Step 3: Test with users.
Without a test run with users, you won't know how the service is helping or delighting your customers. By testing and measuring, you can know the actions that users take. Are your customers clicking more products? Placing more items in a shopping cart? End up purchasing more items overall?
Step 4: Refine usability and polish design.
After testing, you'll likely receive feedback that will cause you to go back and refine the service design. Don't worry–it's completely normal (and troubling if you don't have any feedback to implement). This will get you closer to the service implementation that your customers want.
Step 5: Continuous reiteration
Part of the design process includes continuous reiteration–because nothing is ever perfect. There's always room for improvement, and by implementing a mindset of continuous reiteration, you can continue to stay on top of the latest trends and keep customers satisfied.
Do you have an idea to improve your fashion eCommerce, but lack the engineering resources to implement it? At YesPlz AI, our fashion AI can power your ideas. We have multiple templates for you to choose from that are powered by fashion AI.
12 Filter Template Ideas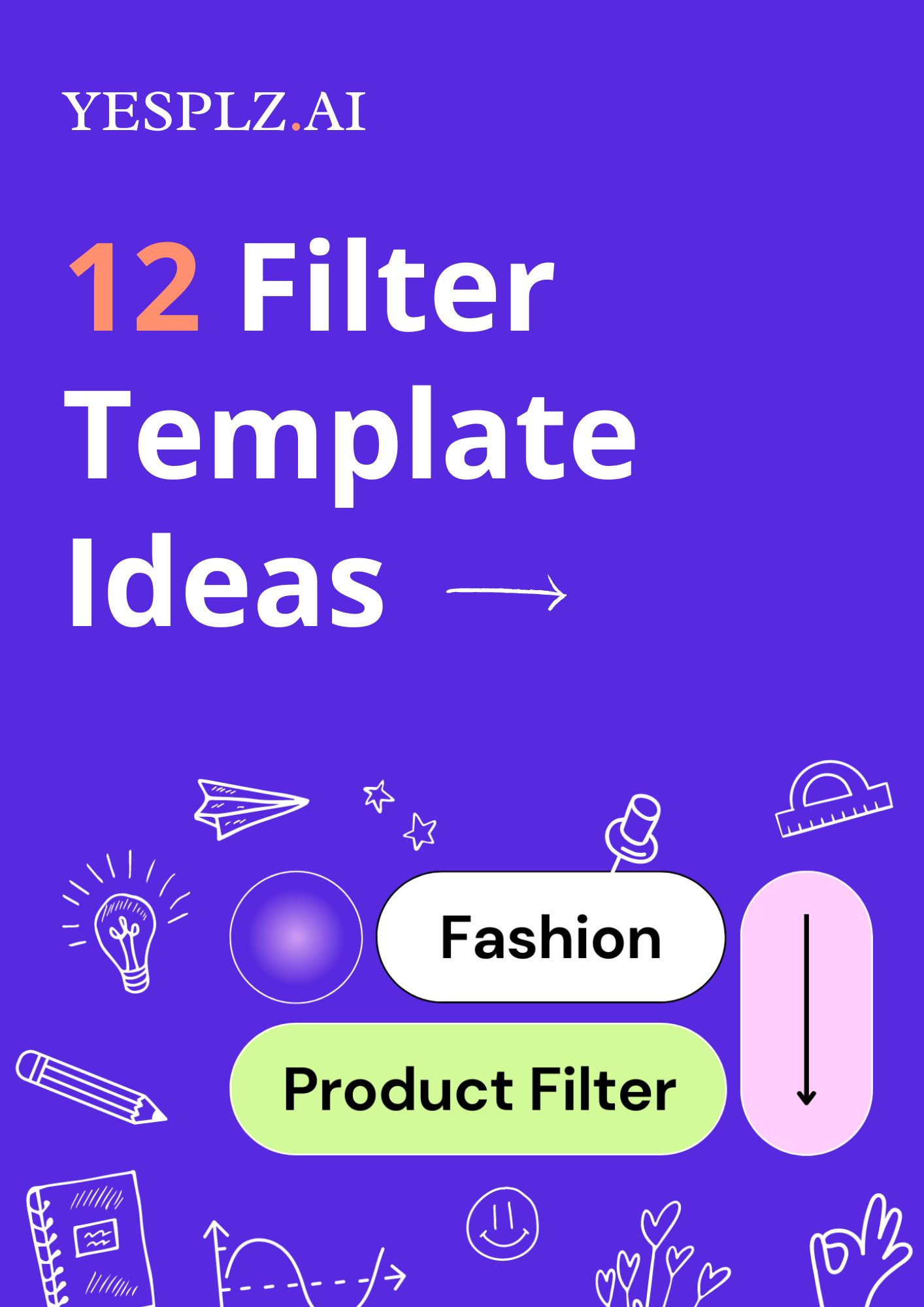 Search filter templates that include: visual search, horizontal/side, mobile, and different design aesthetics
Research on user search behavior
Valuable information about which search filter templates fit your fashion eCommerce's needs
Tips to seamlessly implement thematic search filters
GET THE GUIDE
YesPlz eCommerce Product Filter Templates, Powered by Fashion AI
Template libraries with fashion AI
Save time, but don't sacrifice on quality with pre-built, customizable templates from our library. We have templates for fashion search, product recommendations, and mobile filters. In addition, each template category design is customizable, so you can install the template that works best for you–including the design that suits your website.
Why fashion AI matters
Our templates are more than aesthetically pleasing–they're also powered by real, trained fashion AI. We've spent years training our fashion AI to understand the ins-and-outs of fashion, from product attributes to product recommendations, resulting in templates that are powered by technology.
Why use a template?
When templates are well-built and well-designed, they offer a seamless way to integrate a new service offering into your online store. At YesPlz, our templates are comprehensive–and customizable, so you're not stuck integrating a template that doesn't fit your business needs.
Our Services, Powered by Fashion AI:
Fashion search: Our Style Filter makes search navigation easy by using a virtual mannequin to narrow down search results and filter by product attributes/occasion
Product recommendations: Whether your customers want similar products or to complete their look, our product recommendations can find what they're looking for
Personalization engine: An engine that learns shopper preferences, tastes, and behaviors, and creates curated collections for them
Image tagging: Our technology can quickly and accurately tag product attributes from images, setting up your eCommerce to implement powerful personalization tools
A Taste of Our Template Library
Fashion focused product filter templates:
We compiled fashion search templates after years of interviews with users about their preferences and search behavior. All of our templates are powered by fashion AI, eliminating the need for manual tagging. Here's a sample of our templates (you can download the full template eBook below).
Side Filter
Hybrid Filter
Different Look
Curious to see mobile and more design template ideas and use cases for your website?
Download our free template ideas:
12 Filter Template Ideas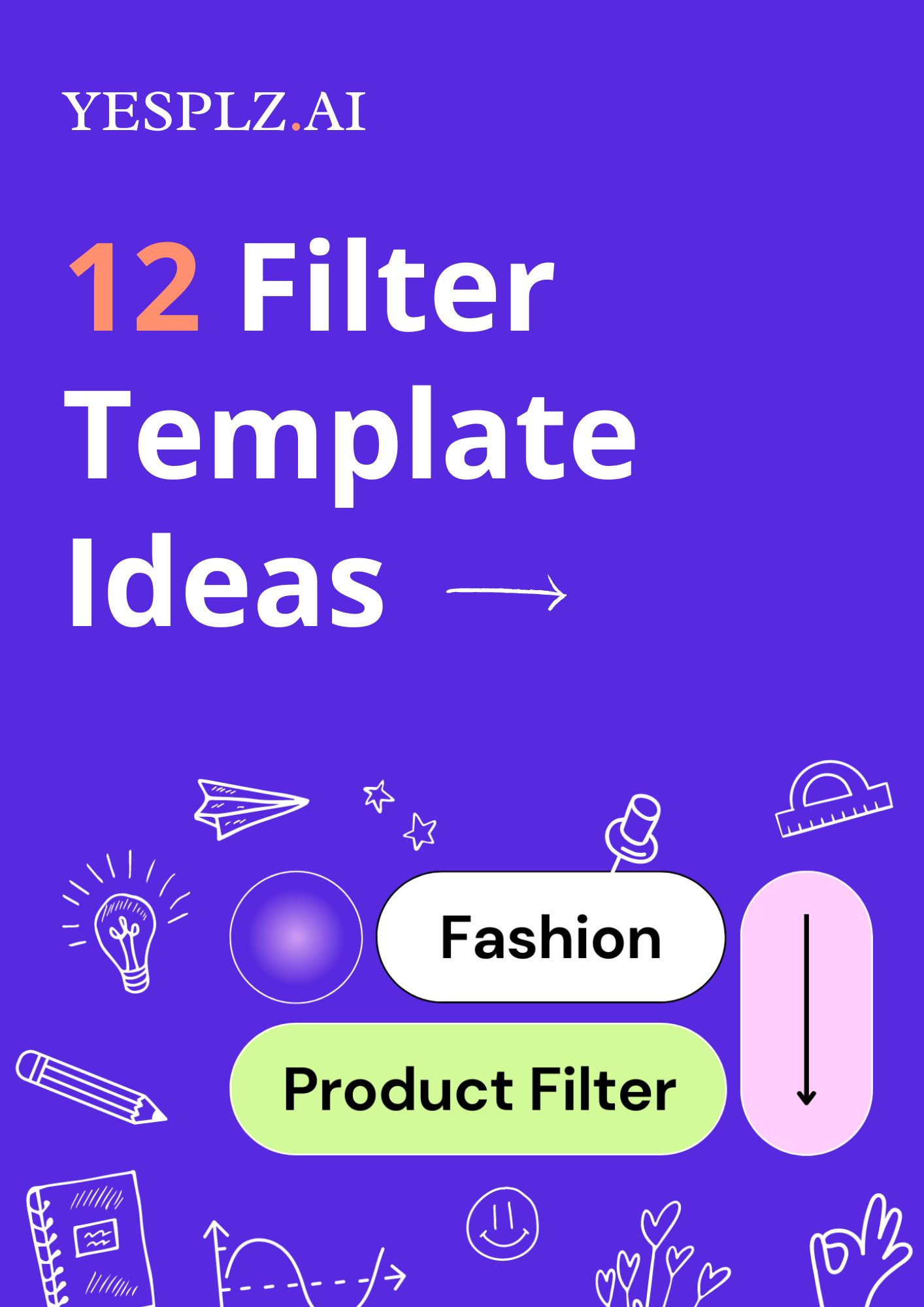 Search filter templates that include: visual search, horizontal/side, mobile, and different design aesthetics
Research on user search behavior
Valuable information about which search filter templates fit your fashion eCommerce's needs
Tips to seamlessly implement thematic search filters
GET THE GUIDE
Tip: You can always plug in our fashion AI to make the template come to life without the burden of manual tagging.